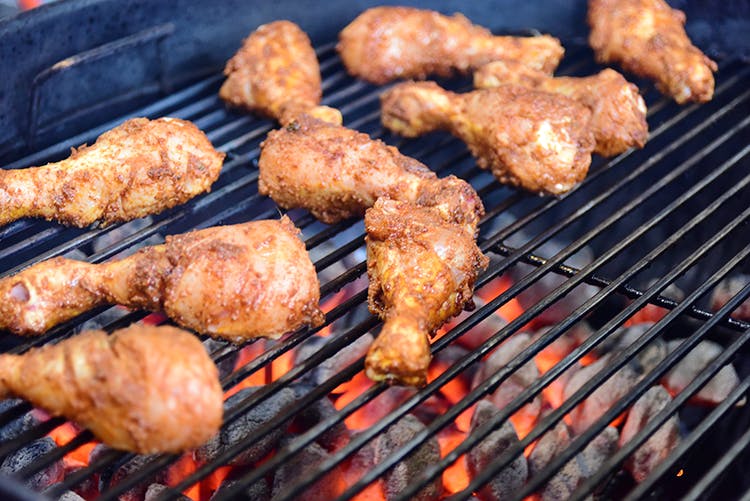 #LBBPicks Got A Thing For BBQ? Here's Our List Of Top Barbecue Restaurants
What's easy to eat, and goes with everything? Barbecue! Hyderabad has numerous places that exclusively serve barbecue. After a lot of tasting and testing, we bring you the top barbecue restaurants in Hyderabad.

Barbeque Nation
Naturally, the list starts with Barbeque Nation. It has been a very popular joint ever since it opened its doors in the city. The unlimited food in the buffet along with mocktails are a huge hit. The marinated grilled prawns and roasted wings here are crowd favourites. Right from chicken to seafood and mushroom to pineapple, several kinds of starters are served. With other non-barbecue options like crispy corn, potatoes, mutton sheek kebab (don't miss this), tangdi kebab, and more seafood delicacies, you can take a hard pass on the main course.

AB's- Absolute Barbecues
Any kebab loving Hyderabadi would surely have heard of AB's. The quick service and fun vibe have managed to strike a chord with a lot of customers. The restaurant is always packed, so reservations are a must. It is also one of the few restaurants in the city that serves Peking duck. But this doesn't mean vegetarians have to feel left out. All your veggies, mushrooms, and cottage cheeses can be grilled as well.

Barcelos
Barcelos' flame-grilled chicken is a leading brand with an established identity. The restaurant specialises in the traditional way of serving authentic and healthy spicy flame-grilled chicken. They offer a huge selection of beer that will go perfectly with the barbecue.

Sahib's Barbecue
The latest addition to the long list of barbecue joints in the city is Ohri's Sahib's barbecue. Along with some popular Awadhi cuisine, if you're in the mood for some hard core Hyderabadi food, this is the place to be. The catch here is that it is only buffet for lunch and dinner. So head over for some good seekh kebab and sheekampur.

3B's - Buddies, Bar & Barbecue
Barbeque, bars, and buddies? Sounds like a recipe for a great time, right? You can get a taste of this recipe when you visit 3B's - Buddies, Bar & Barbeque in Hyderabad for a hearty meal. With a fully stocked bar, live screening, buffet options, and live music scene - we're totally going back to this place for some more and so should you! We recommend trying their Crispy Fried Prawns, Falafel Kebab, Chicken Wings, Crispy Corn and two sinfully mixed cocktails like Western Sling and Mexican Recipe.

Palamuru Grill
With a dhaba like appeal, this popular joint serves up dishes from Andhra, Telangana and North Indian cuisines. If you're craving some good quality regional style food, this is the place to go to. Don't miss out on their Special Kebab Platter which comes from their live charcoal grill.

Ask Ananya a question