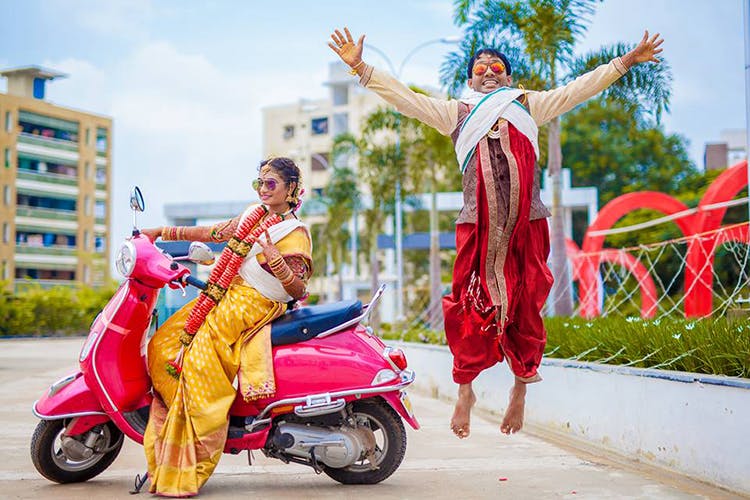 Virushka To Sania Mirza: These Wedding Photogs Will Make You Awesome Shaadi Memories
Homies, let's face it — weddings can leave you in a tizzy. But for the right reasons, they also put you on the spot. And with a good photographer in tow, you can really shine through in all your wedding photographs. Hyderabad is plentiful with candid photographers who are famous not just in our neck of the woods but worldwide too.
Joseph Radhik
Joseph Radhik is a celebrated photographer who has shot the weddings of Virat Kohli-Anushka Sharma, Samantha-Nag Chaitanya, Masaba Gupta and many other celebrities. An engineering graduate from CBIT, Hyderabad, he pursued MBA from IIM-Indore and corporate jobs before pursuing his de facto passion — photography. This award-winning photographer's pictures will remind you of grand Bollywood cinema and can pluck at your heartstrings. Keep a box of tissues handy while looking at his pictures because you'll encounter plenty of tearjerking ones. And we think starring in his stories is a totally fun way of getting hitched. He is also the first Indian to be chosen for Sony's Global Imaging Ambassador programme.
Kamal Kiran
Popular for his sense of humour, Kamal becomes your homeboy and an insider in making your wedding the most happening. He's often the bride's confidante and the groom's best man. Take his advice on lights, decor, and all things fashion because he knows a thing or two about everything. We heart his pictures of Sania Mirza and Shoaib Malik. While his Instagram stories might leave you in splits, they can also give you a quick glimpse into how Kamal can liven up the shoots. Be it Greece or New York, or cities close by, he walks the extra mile to add all the jazz to a photo shoot.
Venky Mallojjala
Popularly known as Photriya Venky, he is one of the first wedding photographers to have embraced the photography scene in Hyderabad. His photography workshops have transformed many individuals who later pursued photography professionally. Venky certainly loves experimenting because his pictures always come as a surprise. While some are regal and larger than life, some are minimalistic. Whatever the case is it always looks like his couples are having a gala time during shoots. Well, need we say more?
Ashwin Kireet
Nobody does candids quite like Ashwin. We've heard he is easy to communicate with and never shies away from exploring different lights, subjects, and locations. Ashwin's forte lies in capturing timeless moments that one would otherwise barely notice. Trust him for your photographs and find yourself giggling like a high-schooler yet again. Although he has shot several premier weddings, he's a favourite among young couples who usually choose him for pre-wedding shoots.
Kishor Krishnamoorthi
We think Kishor lives life large size. Striking all the right chords, his work is a feast for one's eye. A man of many talents, you'll find him travelling, shooting, and writing about photography and his fine perspectives on life. The essence of colours and the grand display of emotions in his pictures are a few reasons why his photographs stand out. He is also the man behind Concorde, a zine that features photo stories from India.
Abhinav Sagar
Carried with little snippets of stories or captions, Abhinav's pictures are drool-worthy. Be it a shot for a bride or bridesmaids, he ensures the pictures look as if they're right out of bridal magazines. Some of his best shots are the pre-wedding rituals where fun moments like mehendi, mangalasnanam (an auspicious bath taken on the morning of the D-day), bridal makeup, etc are captured. An engineer by education, he has studied photography at The New York Institute of Photography. He is also a TEDx speaker.
Comments