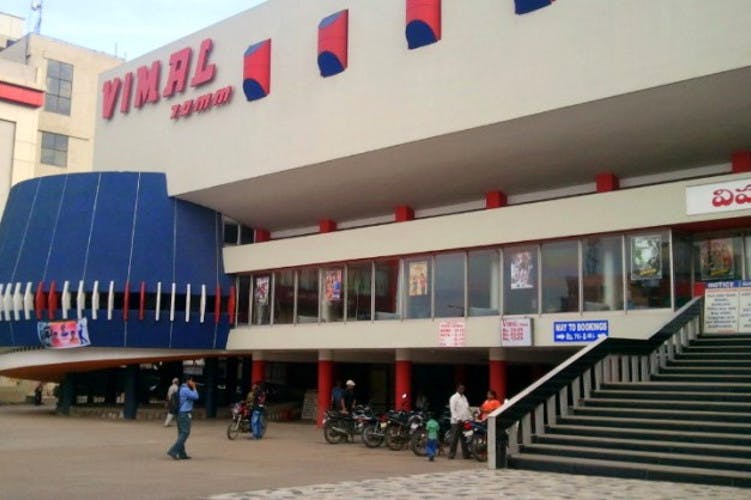 How Many Of You Have Watched Movies In These Iconic Cinema Halls?
Much before the multiplex came into the picture, we watched movies in cinema halls which have set timings – morning show, matinee (noon show), first show (evening), and second show (night). The joy of catching up with your favourite star's movie in these halls is a different high altogether. We're talking about the 'first day, first show' syndrome which pumps up the energy in the halls. So, tell us, when was the last time you ditched a multiplex to watch a movie in one of these old halls?
Sai Ranga
Located at the crossroads of Miyapur, Sai Ranga is where you should go to watch a movie right after the release. It is said that no movie runs for more than a week here, no matter how successful it is. This is also one of the first 70mm theatres to have opened up in the twin cities, and if you haven't watched a benefit show (a premier show) of your favourite star here, well..let's just say you watched nothing at all.
Sandhya & Sudarshan
Located at RTC X Roads, Sandhya 70mm and Sudarshan 35mm are where even celebrities watch their movies on the first day of the release. It is often said that the stars come here to experience the reactions of the crowd, first-hand and that the success of a movie can be easily decided by these reactions. While securing the tickets for a new release in the first week might be tough, we think it's worth the effort, though.
Venkataramana & Padmavathi
Venkataramana & Padmavathi, located in Kacheguda are one of the oldest cinema halls that still drags crowds in number. Although it's renamed as Venkataramana & Padmavathi Megaplex now, the old world charm of the hall is there alive. Go here on a Friday to catch up a new Telugu release.
Aradhana
Aradhana is in the prime location of Tarnaka in Secunderabad and many moviegoers opt this hall because of the location. This 70mm theatre is one of the most popular halls of yesteryears and is said to have a high-quality screen. We don't know how hygienic it is, but if you're looking for an experience of watching a matinee show in an old hall, we recommend this.
Mallikarjuna & Bhramaramba
Celebrities and peeps like us gladly watch movies together at these twin theatres that are located in Kukatpally. They're super clean and well-maintained and have a garden restaurant that rustles some delicious Indo-Chinese food which you can savour before you walk into the hall. Also, the sound system of this hall is lit.
Vimal
Located in Balanagar, Vimal 70mm is one of the first halls that ran Bollywood cinema. Although it's a non-AC theatre, during new releases, it's still swamped with people. Even in Summers. We think this one's perfect to catch a movie in the first one week of the release only. Come Friday, think Vimal.
Ramakrishna
Ramakrishna 70mm located in Troop Bazaar of Abids is iconic in its own way. While the exteriors can take you back to the architecture of the 70s, the interiors have a regal touch to them. Sure, it might look like a place that's fading, but watching a movie here is once in a lifetime experience every Hyderabadi must enjoy.
Comments