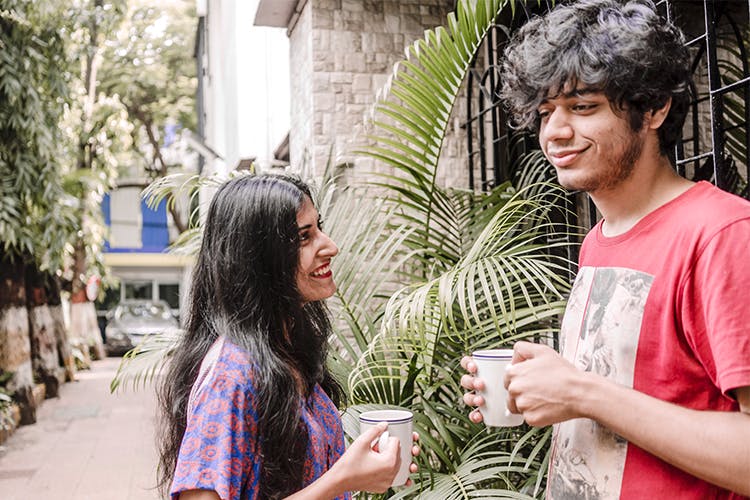 From Exciting Flights To Trampoline Sessions: Here Are A Few Offbeat Date Ideas
What comes to your mind when you think of a date — a candlelight dinner, a coffee date or watching a romcom together? While whatever you do with your bae is special, we say — ditch the cliches and do something fun. Here's our little list of date ideas that'll make your mate fall in love with you all over again.
Colour Your Heart Out
Want to get your hands dirty? Then you should make a visit to Colour-Me-Mine in City Center Mall where you can paint pots and other objects. Drag your partner and get here. Pick an object of your choice and paint with your imagination (and colours, of course). When you're done, your creation is given a final coating to keep the artwork intact which can be collected the next day. Right from a coffee mug to a piggy bank, there's a lot for you and your bae to colour and go crazy on. Go, be a Picasso in love!
Make Time For A Knockout
If you are the couple that enjoys the thrills of a good game, this is the place for you. Put on the coveralls and start shooting at Odyssey Wonder Paintball located in Kompally. Since there are multiple locations across the city, you can pick whatever is closest to you. Get competing with your bae already!
Solve A Mystery Together
Love watching Sherlock solve mysteries on TV? Then get to The Mystery Rooms where you can solve plenty of cases, together. From disabling a bomb to solving a murder mystery, pick your case and get to the bottom of it.
Put On Your Jumping Shoes
You love jumping on a trampoline, don't you? Imagine a whole park consisting of only trampolines. Yes, that's right! Sky Zone is a trampoline park that lets you jump around. You can also enjoy some games while jumping like dodgeball, basketball, and many others.
If you enjoy an active date as a couple, this will be a sweet haven!
Love In The Clouds
Whether you're looking for sweeping bae off his or her feet or planning a special occasion, Oye Happy's Surprise In The Sky is sure to work wonders. This joy ride on a mini-flight (Cessna 172 model) will last for 30 minutes and take you through the clouds where you can hold each other's hand and look down at the vistas of the city. If you're a hopeless romantic at heart, steal a kiss. Even otherwise, you're sure to turn into one after this lovely little ride.
Comments