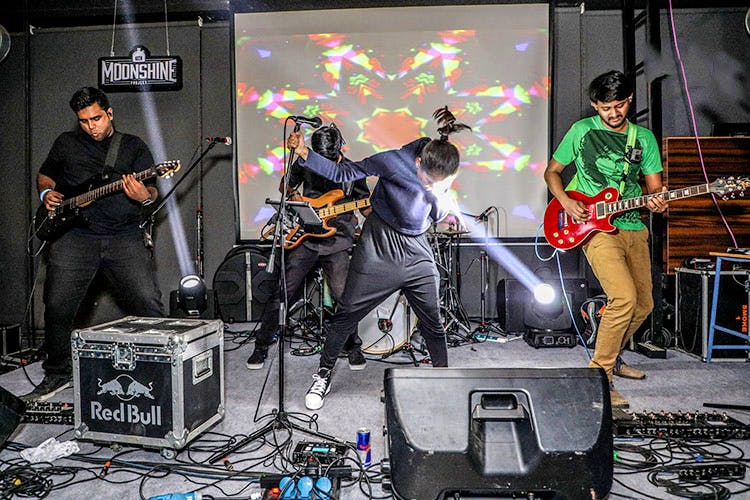 Awesome Gigs, Open Mics, Pop Ups & Events: These Places In Hyderabad Are Lit AF
Hyderabad might have arrived a little late to hosting the coolest of events. Not anymore — quickly becoming a home for some of the coolest events, gigs, open mics, and even pop-ups, we cannot stop hopping to different venues every weekend. Whether you plan to shop or attend a concert, you've got to follow these cafes or bars. Otherwise, you'll miss out on all things awesome.
Tabula Rasa
Tabula Rasa in Jubilee Hills is inarguably our favourite venue when it comes to gigs. Whether it's bringing down international artists or encouraging homegrown brands like Merakee, Capricio, or indie artists, Tabula Rasa basically is the boss of cool! Recently, Dabaki Rising — an event by Dabaki that brought various workshops, live music, and Archana Rao Label's pop-up was hosted here. Plus, we really do love how windy and sunny this bar is.
Le Vantage Cafe Bar
Lé Vantage is definitely lit when it comes to hosting events. Find a slice of Greece when it comes to the ambience and on the inside, it has walls with neon lights and bar scenes going on (Proper downtown NY bars feels). Home to an awesome music scene, Hoozinc threw a phenomenal event with art installations at Le Vantage. So, if you want to be swept off your feet, follow us to this cafe bar.
Olive Bistro
Overlooking the Durgam Cheruvu (The Secret Lake), a meal at Olive Bistro will fill you with great views. But why stop with a meal or two when you can check out amazing events? From cool gigs to discover lesser known bands and indie artists to fun pop-ups to up your style game, Olive has you covered. Attend the next event that's hosted here and you'll know why we're raving.

The Moonshine Project
Bringing down the roof with open mics or spoken word events by
Hyderabad Poetry Project
and happening gigs, The Moonshine Project in Jubilee Hills is next on our list. Expect a vast spectrum of events and each time you walk in, you'll appreciate the space in a new way. Don't forget to get a picture taken at their door or check out their upstairs neighbour —
Log Sabha
.
Juri Cafe & Bar
Juri Cafe & Bar in Jubilee Hills is a new kid on the block, but that's not stopping it from hosting a wide range of cool events. From open mics, standup comedy to workshops on music production and home gardening, you'll find plenty of reasons to go here. Did we mention how Instagram-worthy its ambience is?
Prism
Prism Club & Kitchen in Gachibowli is the new IT thing in the city with cutting edge lights, bombastic sound, uplifting music, and great food. Catch up with your mates on tables just footsteps away from the dance floor or by the patio or just dive into their beautiful pool — there's a lot more to this place. Sure it did bring down Gully Boy fame Siddhant Chaturvedi, and what more reasons do we need to love it?

Hard Rock Cafe
You call Hard Rock Cafe a classic for a reason. This bar in Banjara Hills will woo you with not just its burgers but gigs too. It doesn't shy away from experimenting with its gigs and we love HRC for giving us a taste of Local Train, Penn Masala, and many other bands. They do encourage local bands too.

Good Cow Cafe
Masaba Gupta's very own Good Cow Cafe is not the one to fall behind when it comes to hosting pop-ups and indie gigs. While they are not quite regular with their events, but when they do, expect a blast. If you haven't picked Le Patisserie's macarons and met up Pooja Dhingra or attended a Tangy Sessions' gig here, you've got to wait for their next big thing.
Comments