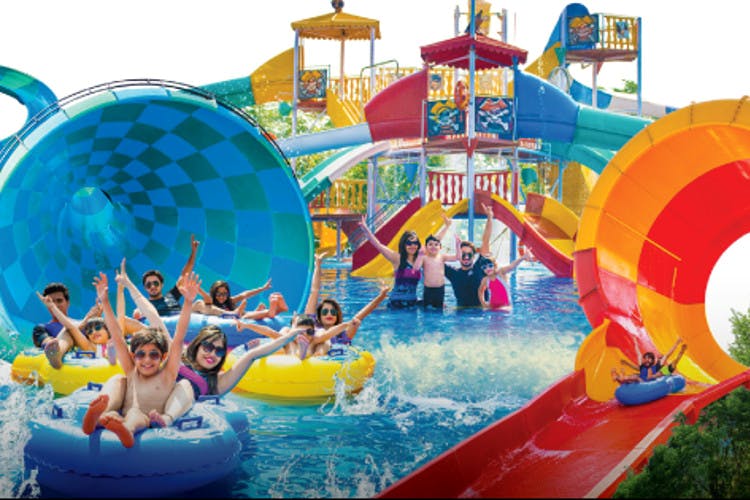 Splash In Water Or Score Some Goals: Hang Out At These Places With Your Squad
For all those times when you don't know what to do or where to go with your gang, hey, we're here! Make that WhatsApp group, send that message, and check out these places for a guaranteed fun time.
Ski Capital
Fancy playing in the snow? Ditch Snow World, and head over to Ski Capital in Sarath City Capital Mall. Dress up in jackets and snow boots and enter an arena full of snow. Slide down into snow or make snowballs and attack all your friends, slyly but surely. They've got zorbing balls too, so make sure to experience the best of snow-fun.

Soap Football
Soap Football in Kavuri Hills is all about thrills and giggles. It might be tough to score a goal when you're tumbling down with your homies down the soap, but hey, all is fair in Soap Football.Picture a large blue (inflatable) turf with plenty of soapy water; while scoring a goal is what you got to aim, good luck doing that while slipping. Dab and dunk yourself in foam if you score a goal! Interested in going beyond football? Then venture into a round of Box Cricket. A game of cricket is priced at INR 1,300-1,600 (depending on the day and time) per hour, but if you're opting for a combo of football and cricket, then an hour of cricket is around INR 1,000.
Pitstop Go-Karting
Ever wondered there's nothing much to do on Necklace Road? Sure you can score great views and take long walks but here's something more exciting. There's a new go-karting arena — Pitstop Go Karting and we recommend hitting it up with your squad. Since it's a new place, you can expect smooth tracks and powerful go-karts.

Freakouts Adventure Zone
Freakouts Adventure Zone in Kondapur's Botanical Garden is a quick drive away from all the major areas in the city like Banjara Hills, Jubilee Hills, Necklace Road, etc, and has amazing outdoor activities to participate. Take a break from your monotonous lives and challenge your friends in zip lining, archery, gun shooting, high rope course, bungee jumping and many more adventures activities that will give you an adrenaline rush fo sho!

Odyssey Wonder Paintball
We believe there is no game like paintball that can quite break a gang of friends. Ushering us into a true battlefield with top-notch facilities is Odyssey Wonder — an outdoor gaming arena. This arena has apparently brought a beach to Hyderabad with its beach volleyball.Serving its deed well for a half-day outing for a large group, here, we can indulge in paintball, volleyball, and cricket without burning a major hole in our pockets (But we'll be burning calories, so woohoo!).

Wild Waters
Fulfilling the lack of a beach in Hyderabad, Wild Waters — a mega entertainment park in Shankarpalli is a home to three kinds of parks — adventure, aqua, amusement.Catering to kids, families, thrill seekers alike, Wild Waters is not your usual water park. For one thing, it is well-maintained and one pass can give you an access to all its three parks.How cool is that? Wild Waters also has three cafeterias for you to treat yourself.

Comments