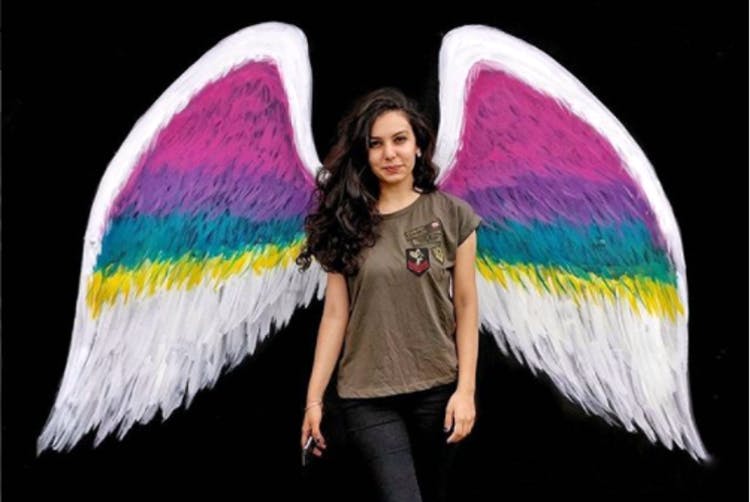 Instagram Worthy Walls To Pose Against In Hyderabad
Ten-Second Takeaway
The Instagram scene in Hyderabad is lit! With bloggers and photographers, or just peeps like you and us hunting for amazing backdrops for their images — we've bring to you a list of 10 aesthetic walls in Hyderabad that will make your Insta feed prettier than ever. So whether you're new to the city or a local, you can get grammin' at these places.
Forum Sujana Mall
As great as this mall is to go to for a shopping spree and then some food, it is also amazing for Instagram addicts looking for some vibrant, creative backdrops. There is a beautiful graffiti of The Charminar against sunset colours which will stun you before you click it. Then, you can also find this artwork of what looks like a mansion and come clouds. Attractive walls on each floor of this mall sure make this an unmissable spot for creatives.
The Hoppery
Visit The Hoppery and you might end up feeling like you're actually in Santorini, Greece. What with the whitewashed walls, and beautiful bougeanville flowers making for some killer backgrounds for photoshoots! They also have yellow benches along side a set up of rustic but colourful items that make a great Instagrammable spot. Check it out today, and enjoy their craft beer too while you are there.
Maqtha Art District
If we haven't stressed enough on how charming the painted walls at Maqtha Art District are, we are now. For anyone who aims to fill up their Instagram feed with some street photography and sheer art, this is the place to go to. Famous art groups like Sta+rt India and Hoozinc have left their mark on these streets and they're nothing short of iconic. Take a friend along to click your pictures too and feel like a part of the paintings here.
The Hummingbird Cafe
When this cafe popped up last month, we went there and got ourself some totally instagrammable pictures. A wall with pastel coloured mirrors, a showcase with funky pieces, a few bird houses and a teal door that leads to the boutique right beside the cafe are what will give your instagram profile a fancy vibe. Be it just a selfie or a well planned photoshoot, you can surely get a lovely setting here.
Starbucks, Alcazar Mall
On the second floor at the Starbucks in Alcazar Mall is where you can find this charming wall-art. The orange contrasting with the black, makes for an amazing prop, we kid you not. Look at this picture we clicked, for instance! It's got all the feels and your followers will be diggin' it. Click away the next time you are waiting for your coffee here.
Up And Above Cafe and Bar
This pocket friendly place is spread across three floors in Sindhi Colony including a rooftop. And, it's not just the view from here, but also the whole set up of this place that is insanelt aesthetic. From exposed brick walls, to funky posters and colourful chairs to a walls with quotes, and also one with the Statue Of Liberty on it, this place is an instagrammer's paradise.
Zaika-e-Hyderabad
As classy as this dining place in Banjara Hills is on the inside, the walls outside this place are charmingly done up too. Look at the beautiful birdcage and the choice of colour. It's so subtle and very very instagrammable. And then there is a wall dedicated to the grandeur of Charminar. Clearly Hyderabad celebrates this monument in more ways than one.
Karma Shack
At Karma Shack, get yourself a pair of wings and a super-cool Instagram worthy photo against this wall art by Abused Ink. The ambience of this place offers many other sights that will also look good on a square box on your feed, for instance – the octopus pirate to psychedelic mandalas hung on walls.
Necklace Road
The street art on Necklace Road has an immense variety of options to choose from and to put of your Instagram handles that it can give you posts for weeks. These stunningly done up walls are an attraction amongst pedestrians and automile riders alike — so much so that some often stop their vehice just to click that perfect shot. Have you done that yet?
Comments