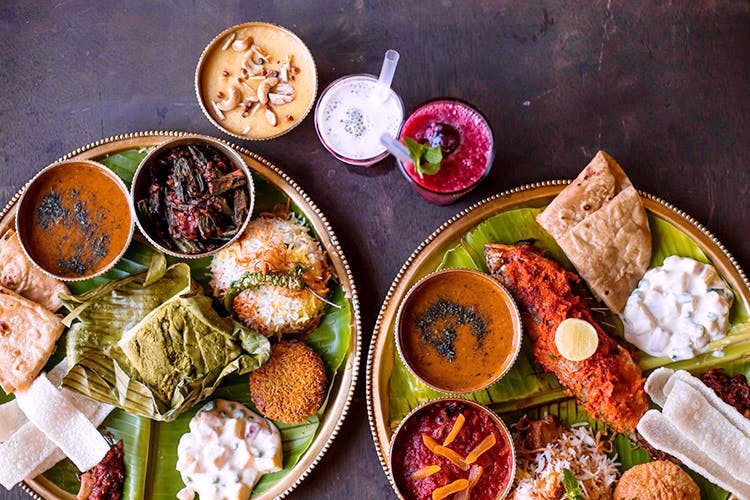 Italian, Japanese & Desi: Get A Taste Of Different Cuisines At These Restaurants In Town
Hyderabad is big on food it is known to all, but we're not just about the biryani and haleem. We enjoy cuisines from different parts of the country and the world from time to time. So, if you're new to Hyderabad and need some help in finding your favourite food, here's a list of only the best to your rescue.
Flying Spaghetti Monster
If you're in the mood for some good Italian food, the kinds of pasta and pizzas at Flying Spaghetti Monster (in Jubilee Hills and Banjara Hills) should not be missed. We love the Casa and Sicilla pizzas here with their thin crusts and perfect toppings. Some of our other favourites include the flavoursome Aglio Olio E Pepperoncino and the Pina Colada here. For non-vegetarians, they have a lot of options in chicken, shrimp, fish, and bacon here. Don't worry if you get confused about what to order, as the staff is quite friendly.
Haiku
Looking for some oriental delicacies? Then, hit up Haiku in Banjara Hills. Relish Japanese, Thai, and other Asian cuisines in a single place and be enthralled by the variety. Start off with a helping of Tom Yum soup, and follow it up with the lip-smacking Indonesian Chilli Ban Mee noodles. We also recommend the Khao Soi, the Green Thai Curry with a tint of lemongrass and the Sticky Toffee Pudding. Along with the impressive food, the decor too will grab your attention. Patterned walls and subtle lighting make this place refreshing. Don't forget to grab a glass of Boba Tea on your way out.
Nabanno
Closer home, Bong food has a niché of its own, and Nabanno is Kukkatpally will deliver a feast. Its colourful walls, rustic windows, and beautiful artwork will win you over before you get to the food. Although their menu is extensive with dishes like Narkel Postor Bora, Fish Chop, Deem Chingri, Muri Ghonto, Aar Jhol, Dak Bungalow Chicken, and more, we swear by the Aloo Poshto here. It's to die for. Don't believe us? Try it yourself, and don't forget to end your meal with a Roshogolla.
Telangana Spice Kitchen
Taste the true flavours of Telangana at Telangana Spice Kitchen, with its Garelu, Mudda Pappu – Pachi Pulusu and seasonal specials too. They have local chefs and raw materials from local farms. So much for authenticity, we are totally taking our visiting friends to this place to explore and understand our home cuisine. While here, do try out their variety of cocktails fused with Telangana flavours too! The service is quick and you also get rabbit and quail dishes here, which are rare in Hyderabad.
Rajdhani Thali Restaurant
If Jain food or pure vegetarian Rajasthani dishes are what your tummy is craving, then Rajdhani Thali Restaurant in Banjara Hills is for you. From Parathas and Pakoras to the irresistible Dal Bhati Churma, they have it all. They serve thalis only here, and without burning a hole into your pocket. So, go here when you are up for a full meal consisting of rice, pulao, roti, puri, thepla, curries, dal makhani, and complete with aam ras and rabdi-jalebi. For the much needed soulful ghar ka khana sort of food and for the love of North Indian dishes beyond butter chicken, you shouldn't miss this place.
Comments