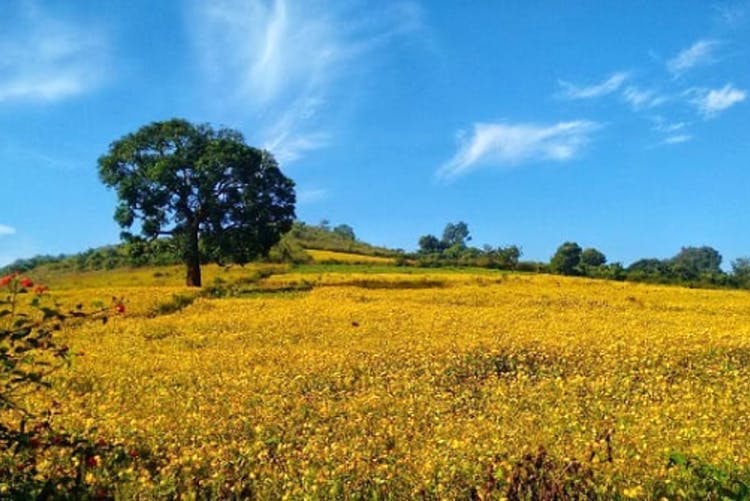 These Places Call For A Romantic Getaway With Bae
Whether you're planning to go really far from Hyderabad or looking for a quick weekend getaway with your significant other, here is a list of places that'll get you both lovestruck. Did we mention these are the top romantic getaways in and around Hyderabad?

The GrassWalk Resort
If your romantic getaway includes completely unplugging from the outside world, The GrassWalk Resort in Vikarabad might seal the deal. Almost lost-in-time, this oasis of charm is just about 90 minutes from the main city of Hyderabad. We are quite taken by the tented accommodation that almost convinces you that you're in the hills. Plus, they are super luxurious making it a real deal for special days.

BlackBuck Resort
Somewhere between Honnikeri Forest Reserve and Vilaspur Lake in Karnataka is Blackbuck Resort. Sprawling grasslands, candidly roaming blackbucks and peacocks make for a company you cannot ever get over. This resort is quite close to Bidar, making it a mere four-hour-drive from Hyderabad and if you are looking for a quiet time, we cannot recommend this resort enough. They have rustic cottages that are dotted all along the lake, making it perfect for quaint date nights.

The Wild Cabana
Got no much time on hands but want to get away from the city? Do check The Wild Cabana — an adventure resort which is 40Km away from Hyderabad. This is a pet-friendly resort so if you have a puppy, you can take him too. The tent rooms are quite beautiful but since it's an eco-friendly resort, you cannot expect luxury. The resort hosts bonfire, walking trails and comes with facilities like pool, playground, and tons of activities.

Pondicherry
The idea of walking the streets of the French Colony in Pondicherry, hand-in-hand with your bae, sounds fun, doesn't it? Pack your bags and head to this timeless town and have plenty of dates at the popular cafes and restaurants of White Town. There's a beach sorting your late night walks.

Palavelli Boutique Resorts
Palavelli Boutique Resorts near Dindi is a perfect escape for those seeking a quaint country life. Entirely surrounded by coconut trees, this resort is probably made up of our dreams. You can explore the backwaters of the Godavari on houseboats or go island hopping that is organised by the good peeps of the resort. Either way, this is a super pocket-friendly getaway that you can ask for.

Andhra Arts & Crafts Hotel
Don't mind going the extra mile? Book your next flight or train and head to Vizag to check into the world's first handicrafts hotel — Andhra Arts & Crafts Hotel. It comes with private beach access and the rooms are handcrafted by award-winning artisans from Andhra Pradesh. We don't think anything will spell romance better than their Kalamkari or Tholu Bommalata room.

Panchgani
Sometimes all we need is a slow-paced holiday and we think, waking up in Panchgani is nothing short of one. Tucked between the hills of Sahyadri mountain ranges, this erstwhile summer resort of the British Raj is a rather sleepy hamlet. The mornings are engulfed in fog and the evenings unravel in a laidback fashion. Get on the next Shatabdi to Pune and head to Panchgani from here.

Lambasingi
One of the less explored hill stations around the city is Lambasingi, a small town also known as Kashmir of South India. Although this place is a massive hit among travellers in winter as it experiences sub-zero temperatures and foggy weather, it also a great choice for summer getaways. This tranquil place has dense forests, plantations, and valleys and the population here is very less too. Head here with your bae for a cosy time.

Comments