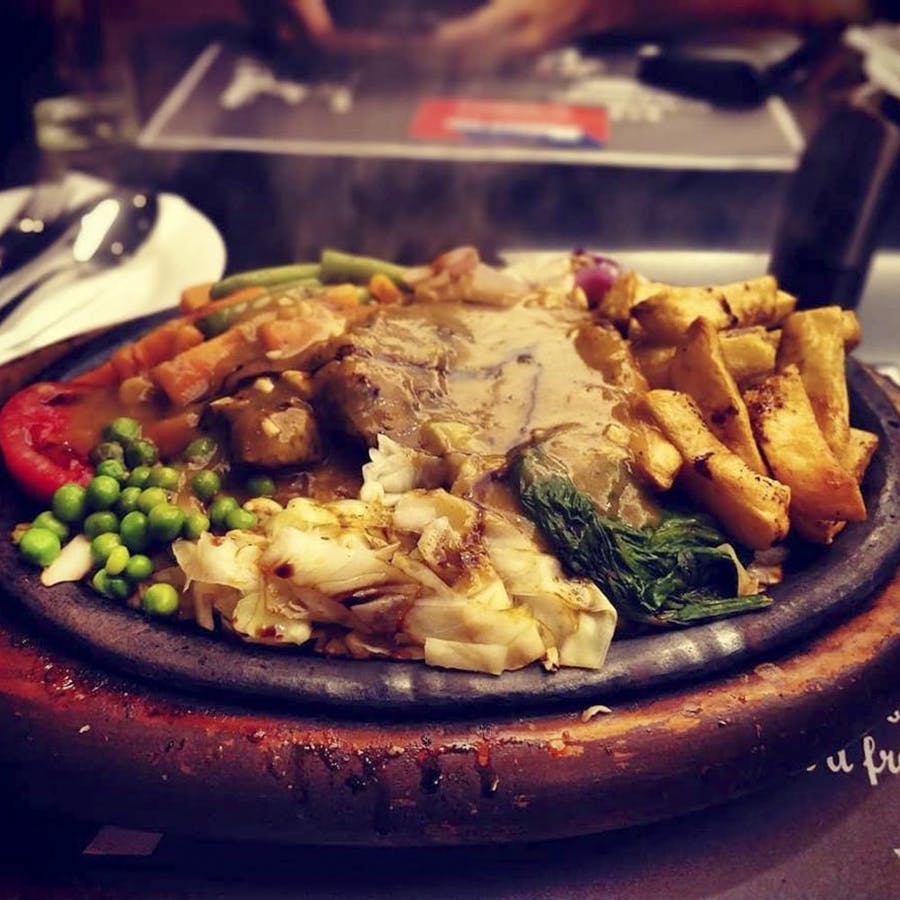 Smokin' Hot! These Are The Best Sizzlers In Hyderabad. Tried Them Yet?
Sizzlers do more than just filling your tummy. They're a visual treat and we love the sound of a sizzler, sizzling right on our table. Do you agree? In that case, get to these top sizzler places in Hyderabad with a large appetite.
Ohri's 100 Degrees
Ohri's 100 Degrees in Hitech City is one of the best places for sizzlers in Hyderabad. And we' go here, time and again, for a reason. We love their Chicken Durban Sizzler which is Peri Peri Sauce based. This comes with spaghetti and potato mash, which complements the spicy sauce. Their Prawns Sizzler is yet another terrific option if you are into seafood.

Sizzling Joe
Tucked away in the food court of GVK One Mall, Sizzling Joe is known for its sizzlers. The service is quick and you get the food in less than 15 minutes. We tried the Paneer Shashlik Sizzler, Chicken Tikka Sizzler, and Stuffed Mushroom Sizzler. The tikka sizzler arrived with a thick makhani sauce, and the stuffed mushroom came with a tangy Schezwan sauce. The stall also has wacko variants like Mutton Biryani Sizzler, Fish Steak Sizzler, Seafood Mix Grill Sizzler. In fact, if you want a mix of different things you can make a sizzler of your own by picking veggies, meat, and sauce of your choice.
Absolute Sizzlers
Located inside SLN Terminus, Absolute Sizzler is sort of a hidden gem that we quite enjoy for our sizzlers. The service is a little slow here, but all is forgotten when the food is so good. While we tried plenty of sizzlers here, our constant is the Spicy Chicken Sizzler which has flavourful pepper sauce. Accompanied by fresh steamed veggies and mash potato or wedges, you can ask for rice or noodles, as per your choice, and dig in!

Kobe Sizzlers
Kobe is probably one of the newest sizzler places, and you've got to try their Chilly Prawn Sizzler or Mixed Grill Sizzler that comes with both lamb and prawns. Saucy, spicy, and every bit delicious, these are served with French fries or mashed potato and steamed vegetables. If you love chicken, don't miss their Nasi Goreng Sizzler or signature sizzlers.
Tatva
You think vegetable sizzlers aren't delicious? Allow Tatva in Jubilee Hills to change your mind. Go for their Mexican Sizzler that comes with red kidney beans, Mexican rice, grilled vegetables, and stuffed potato skin and a burrito. Priced at INR 480, this can be easily shared between two.
Comments