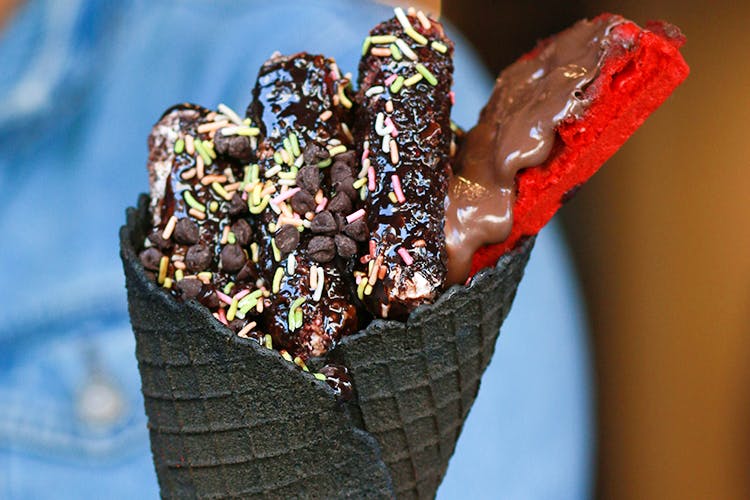 Gaming To Eating: Here's A List Of Top Things To Do In Begumpet
Isn't Begumpet one of those few areas in Hyderabad where you can chill out — whether you're broke or not. Of course, there's always 10 Downing Street, our eternal constant, but we're giving you a scoop on more places to eat, play, and shop in Begumpet.
Go Gaming At Playmax Interactive
Playmax has been entertaining gamers and their needs since 2003 and if you're a gamer who enjoys playing on supreme range consoles and PCs, this is your getaway. Pumped with adrenaline rush and cheers, an hour of gaming at this zone is a fun experience. Gamers indulge in DOTA, Counter-Strike with their squad and right now, Fortnite and PUBG are the most sought-after. Book a gaming slot for you and your squad at least 2-3 days in advance as it's next to impossible to make space for walk-in gamers.

Check Out Spanish Mosque
Built in 1906 by Viqar-Ul-Umra (who also built the Falaknuma Palace), the Spanish Mosque is evidently a unique piece of architecture in Hyderabad. Unlike the bulbous domes characteristic of regular mosques, it has Moorish architecture along with aspects of Islamic design. The minarets have spirals, and the centre has the crescent moon. The mosque can apparently host about 2,000 people at once and holds the graves of the members of the Paigah family. Architecture enthusiasts will certainly enjoy being at this mosque as nowhere else in the city can they find a monument that is such a magnificent fusion of Moroccan and European elements.

Grab A Meal At 10 Downing Street
Ever since we've turned 21, 10 Downing Street in Begumpet has been our constant. Touted as one of the best pubs in Hyderabad, this is designed as a vintage English pub. You are definitely in for a gala time during the lunch hour because of its popular pub combo meals. Go for the Shepherd's Pie or Chicken Lasagna or a Chinese dish (Kung Pao Chicken, anyone?) combo that sets you back at INR 240-300. With a cocktail/beer/cold drink and a dessert, there's not much that can go wrong with this combo.

Buy Handlooms From Daram
Daram is an exclusive handloom garment store in Begumpet where you can shop for men, women and children's wear. Plus, accessories. Here, you will find good quality outfits for which you won't have to burn a hole in your pockets. We're crushing on their everyday kurtas for men and women which we think would make perfect office wear. For the love of sarees, they've got the most beautiful collection plain sarees, border sarees, Khadi sarees, block print and Kalamkari sarees which will up your A-game and make for great heirloom sarees too.

Hit Up Escape Time With Your Squad
With two challenging rooms that'll require all your intelligence to solve the clues and get out, Escape Time is Begumpet's very own escape room. Don't know how this works? Allow us to get into the deets. You will be locked in a room which has a set theme and you will have one hour to solve the clues and bust yourself out. Pretty straight forward, right? There is a catch. To solve the clues, you'll have to put your thinking caps on and really work them out because they aren't going to be easy. Escape Time has two rooms as of now called Professor X's lab and Jail Break.

Budget Shopping At Ink Blue
If there is one store in Hyderabad where you can hoard the latest season collection of international brands like ASOS, Mango, Zara, and more, it is this. Pick from the shelves (at a bargain price) a leather jacket or two, flouncy maxi dresses, skater dresses, and blouses in various prints and patterns. We swear by this store whenever we want to get trendy stuff on a budget. Plus, it's a haven for accessories!

Dig Into Cheese Fries & Pasta In Waffle Cones
Chow down on ice creams, sweet treats, and savouries at Icekraft, that is located inside White House, Begumpet. The two-storied cafe is minimally designed with one wall significantly done with the prints of ice-creams. Go here for Cheesy Jalapeno Friffles and Cheesy Mexicano with Nachos Friffles. The gooey cheese makes all the difference. The fries are honestly more like wedges and we quite enjoyed the tang blending in with the waffle's sweet flavour.

Comments