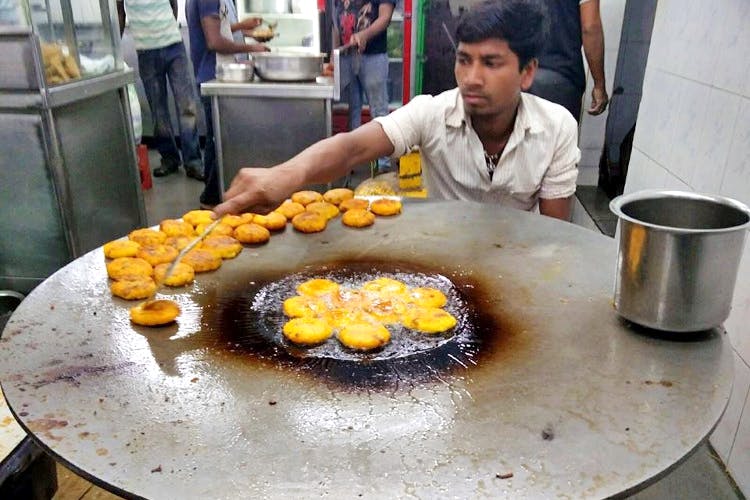 For A Pakka Hyderabadi Experience, Here Is A List Of Top Things To Do In Koti
Bustling with all kinds of people, Koti is a go-to for many locals for literally everything. But hey, if you've never been to Koti before and want to explore the streets of this iconic locality, check out this guide and hit up these places for a Hyderabadi experience.
Score Novels & More At United Book Stall
Students and bibliophiles,calling you all! United Book Stall stall in Koti sells all kinds of books at heavily discounted rates. Though educational books (mostly second hand) take up most of the space, the stall also has novels from international and country-based authors. We found The Fourth Estate by Jeffrey Archer, Inferno by Dan Brown, The Dilbert Principle by Scott Adams and self-help books too, like You Are A Badass by Jen Sincero. Evidently, they have a good collection of the popular novels, and if the books are first hand, they still sell them at discounted rates here. You can also sell your old books here and thereby make them available to someone else who might need it and get some money in return.

Get Awesome Tech Stuff At Gujarati Galli
Building a super-cool DIY science project or trying to repair your own phone? Gujarati Galli — a street full of electronic gadgets and spare parts will make your work easier. Walking amidst the rather chaotic lane, we found tiny stalls to massive shops selling audio and visual systems (wireless mics, sound mixers, amplifiers, televisions, home theatres, set-top boxes), CCTV cameras, cable assemblers among other technical devices. Engineering students, they have entire robot kits, WiFi modules, drones, and all sorts of cables starting at INR 500 for earphones.

Get Your Photos Framed At Royal Frames
Although located on the main road of Koti, Royal Frames is a hole-in-the-wall place that can be easily missed. Walk into the store to find yourself surrounded by not just framed photographs but paintings too. The entire store is filled with various varieties of frames and borders — wooden, metallic, vintage. They also add borders with intricate carvings for mirrors so you can get a regal-looking one for your bedroom too.

Get Your Drapes Done Up With Maggam Work At FashionArts
From the outside, FashionArts looks like a hole in the wall store with jars filled with colourful threads, kundans, and sequins, while you see men at work adding details to cloth.But when you get in, you'll find out that they have an entire floor upstairs where the store owner, Raju takes Maggam classes for anyone interested. It can accommodate upto 10-12 people at a time and is pretty spacious. Being in the business for over 10 years, you can rely on this store for intricate, and vibrant designs like that of peacocks, flowers, parrots, mirror work and various traditional patterns that will make your blouses, sarees, and lehengas look every so grand.

Find Your Sole-Mate At Coal Black
Whether you're looking for juttis, pumps, or sandals, you'll find plenty of pairs that are designed to elevate your ethnic outfits at Coal Black. Think of beads, pom poms, mirror work on your footwear! We found potli bags and clutches with embroidery and box clutches with pearl handles. No better way to rock a Hyderabadi wedding, we think!

Tuck Into Sweet & Spicy Chaat At Gokul Chat
Gokul Chat is the most popular snack joint in the city, that has been winning hearts for 50 years. No trip to Koti is complete without demolishing their Samosa Ragada. Forever bustling with foodies, it opens its shutters at 8.30 am and runs full-house till 11 pm. Craving Kulche Chole for breakfast or want to have a crazy start of your day with chaat? Gokul is your bae. Premchand Vijayavarg started this chaat bhandar in the 1970s, and it's still run by him and his family. Ain't that awesome?

Comments