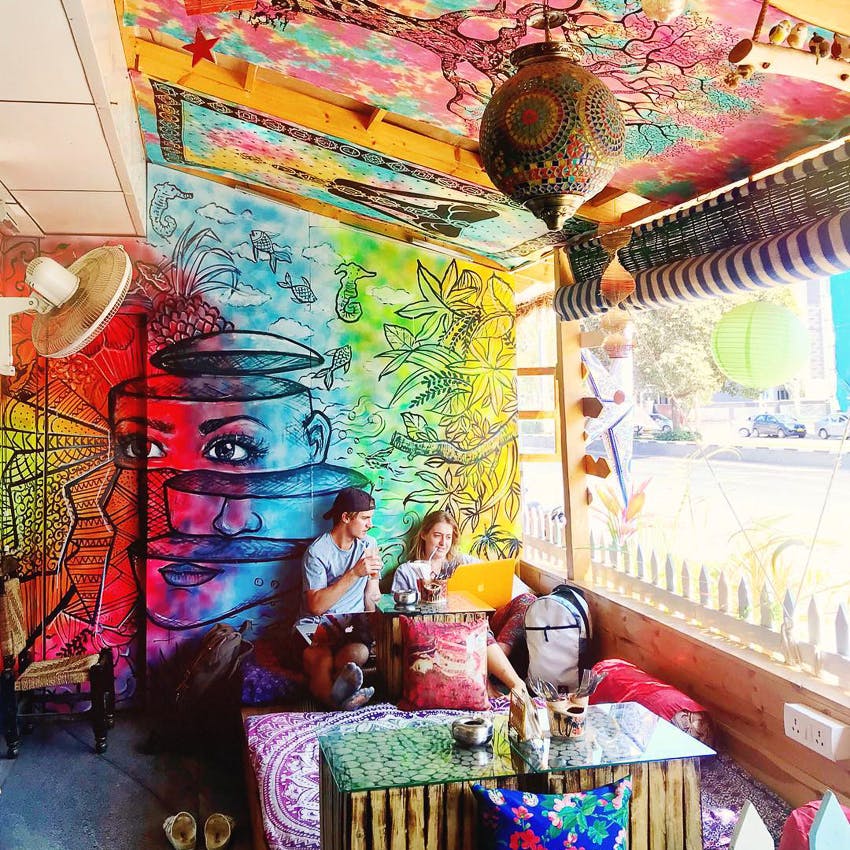 Play, Shop & Gobble: Here's A List Of Top Things To Do In Kondapur
With several offices located in Kondapur, this area is where entertainment has to be top-notch. We mean, seriously. From movies to food, we prefer having a quality time with our work fam than being stuck in traffic. You think so too? Here is a list of top things to do in Kondapur.
Check Out Ladies Night At Heart Cup Coffee
Heart Cup Coffee in Kondapur has the most happening Thursday nights in Hyderabad. They've got karaoke and ladies night, dragging the best of the city's crowd to its yard. We chugged down plenty of cocktails (hello free drinks) and honestly, this is one of the best ladies' nights where we found drinks, super delicious. Whether you're a designated bathroom singer or someone who enjoys entertaining a fine crowd, this karaoke night will win you applause and love.

Watch A Movie At AMB Cinemas
AMB Cinemas is one of the biggest movie theatres (or superplex, as it calls itself) in Kondapur. This superplex is making movie watching super convenient with features like valet parking, lounge, on-seat service at the press of a button, it can accommodate 1,638 members. In fact, one of the screens only has recliners, and if you love your recliner seats dearly, you know what to do.

Spend Some Time At Kondapur Dog Park
Don't have a pet? No problem. Walk to Kondapur Dog Park and spend some lovely time in the company of doggos. The park is shaped like a bone and has a splash pool, a walking track, dog training and exercise equipment, an amphitheater and a loo cafe as well. There are separate enclosures for big doggos and small ones to ensure the comfort of both humans and dogs. Sit at the amphitheatre or on a bone-shaped bench & enjoy dog shows and training sessions that take place here. There's a gazebo for days when it's too sunny, or simply to sit back and read a book.
Grab A Cup Of Joe At Sentido Coffee Brewers
Sentido Coffee Brewers has quite hammered the art of making coffee. Touted as one of the best coffee shops in both Kondapur and Gachibowli, where your senses will be engulfed in all things coffee as you stand behind the counter and watch the baristas pull off magic with panache. We love their pour-over and AeroPress but we recommend you check out what's new of their coffee menu and sip away!

Sign Up For A Cooking Class At Escapades Culinary Studio
If you're looking for cooking classes near Kondapur, allow Mrs. Arundhati to teach you the ABC's of Indian cuisine. Soups, salads, appetisers, desserts, and more — try your hand at cooking under experienced guidance. She hosts a hoard of short workshops regularly, that you might want to check out.

Load Up On Stationery From Itsy Bitsy
DIY enthusiasts, Itsy Bitsy is your legit blessing in disguise. Their collection boasts of kits for sculptors, bakers, artists, and designers. With products like wood carving materials, modelling tools, cake decoration sets, quilling kits, and calligraphy sets, you're sorted. What more, you ask? All the usual (but essential) suspects like canvas boards, easels, acrylic/water paints, and paintbrushes shall be found.

Go For A Meal At 84 Anjuna Shack
Want to see a little bit of Goa in Hyderabad? Then 84 Anjuna Shack is where you must go with your squad. Done in a laidback ambiance with a seating that comprises basic (yet cushy) bamboo chairs, you will also stumble upon a flea market with apparel, jewellery, chappal, etc. Whether you are in the mood for waffles or pasta, this shack has a little something for every food lover. But we recommend the Spicy Goan Wings, which are juicy and finger-licking good. Plus, you cannot miss out on the Goan thalis like Goan Fish Thali which comes with Fish Rawa Fry, Goan Fish Curry, steam rice, and more.

Grab A Great View From Khajaguda Hills
Go have a rocking time at Khajaguda Hills, just three kilometres away from Hitech City. Natural rock formations, boulders, and peacocks in the sight are a few things that define the hills. There's a dargah on top, and watching a sunrise or sunset here is not to be missed. It requires a basic trek and lots of photographers go here to practice photography or to perfect those drone photographs.

Get Lost In Ikea
IKEA is one of those places where we can wander away. No, we mean it. Whether you love home decor or enjoy eating in their food court, we love hitting up IKEA once in a while. If you haven't checked it out yet, now is the time.
Comments