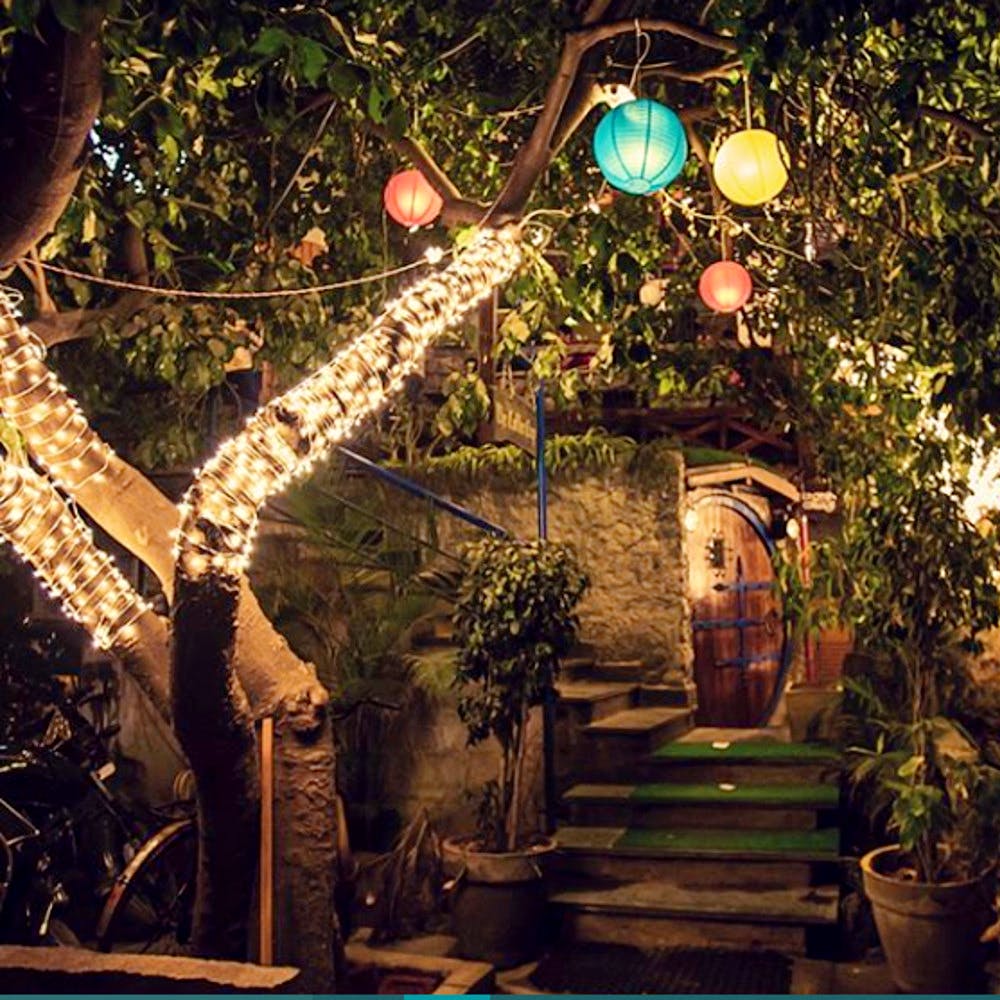 Eat, Play, Shop: Here Is A List Of Top Things To Do In Sainikpuri
Thanks to The Coffee Cup, we've always had a soft corner for Sainikpuri and its surroundings. Wondering what are some cool things to do in and around Sainikpuri? Hit these places up.
The Coffee Cup
The charm of Hyderabad's favourite coffee shop is boundless. Known for its live music and popular karaoke nights, you'll never find an insipid moment at The Coffee Cup. Your Monday morning blues can be straightened with their breakfast platter, Latte Cinnamon Dust Coffee, and wandering pets. For the comic lover in you, head over to their red brick wall adorned with superhero pictures. What's not to love? Their Ice Cream Cottage downstairs will remind you of The Hobbit and all things fantasy!

Check Out Dupart For Handpainted Dupattas
Tucked in the bylanes of Sainikpuri and located right opposite to Chai Kahani, DupArt is a one-of-a-kind boutique that sells stunning dupattas. When you walk into the store, you'll notice how quaint it is. At the entrance, bath and body products by Khadi are neatly stacked in shelves, and when you walk in a little further, you'll find dupattas and sarees that are printed and painted in-house. Priced at INR 300 and upwards, these traditional dupattas are wardrobe staples. And if you have been waiting to get a certain design done to a dupatta, you can get it done here.

Go For Desserts At Little Indulgence
Little Indulgence reminds you of those quaint Pondicherry cafes but takes it a notch up and above. Wondering how? For one thing, there is no set menu — expect something new and awesome each time you walk in. Founded in 2013, Praneetha has floated this patisserie when she was still in college. She whips these delights using fresh products, and we love how light and creamy the desserts are.

Get Organic At Evergreen Organic Groceries
Located at Neredmet crossroad, Evergreen Organic Store & Cafe is easily accessible. It is a spacious store that has all things natural and fresh and it moonlights as a cafe too. Get here to stock up on organic groceries, skincare range, and grab a cup of coffee on your way out, at their in-house cafe.

Hike Up To Moula Ali Hill
Unfettered by the suburban aura and largely isolated, Moula Ali Hill is a stunning location with a hilltop dargah. The sunrises and sunsets are magical here, and it's just 20 minutes away from Sainikpuri. A trek to Moula Ali Hill is a fairly easy and rewarding one. With 500 well laid out steps, beginners who want to do some serious trekking in the future often practice here, but we trek for different reasons. This dome-shaped hill gives you a brilliant panoramic view of Hyderabad, especially after the sunset (when the city is lit up).

Plan A Staycation At Kutumb
Secunderabad usually has less hustle-bustle compared to Hyderabad and if that's the sort of calm you're looking for, check out Kutumb in Sainikpuri. It's a sleek, cosy home that can accommodate four people, and make your stay as comfortable as possible. We're digging the clutter-free, minimalistic decor and comfy lounge chairs in the hall which gives this is a modern home feel.

Comments