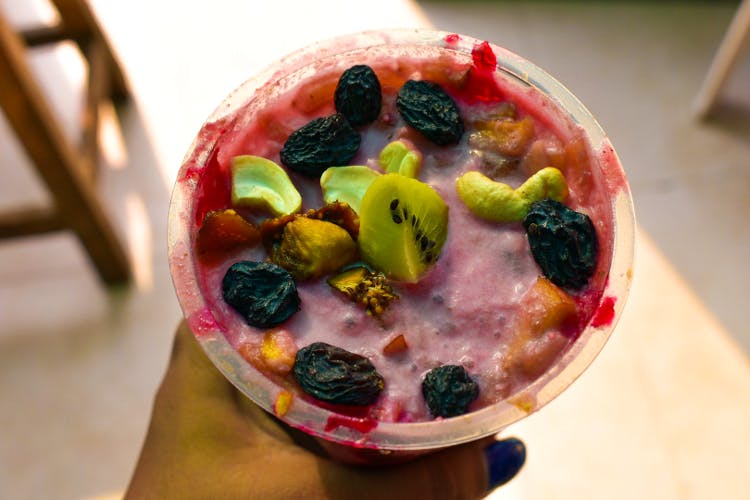 We Made You A Guide Of Eating Vegetarian From AM To PM In The Old City
As the common saying goes, finding vegetarian dishes in and around the Old City is tricky. But we say, it's just a myth. We braced ourselves and took up a challenge to find delicious vegetarian dishes in the world of paya and tala hua gosht. So, follow us with your taste buds and we promise you a satiating affair of meals from am to pm.
Govind Dosa
Find yourself dragged towards this little kiosk, Govind Dosa (also known as Govind ki bandi), with its all-engulfing aroma. Tawa Idli or freshly-tossed dosa, you are in for a treat. Served along with coconut chutney, there are several options for you to explore, but we implore you to stick to the basics like Butter Dosa or Ravva Dosa for they melt in your mouth. Careful before you dig in, though, because these are served steaming hot. But with a bottle of water in your kitty, you're sorted.
Do note that this kiosk is always crowded, and we recommend you visit it between 6.30 am (opening hour) and 7.30 am because the first batch of their dosas is the best.
Hotel Nayaab
We won't sugarcoat it for you – Nayaab is great for its Nihari and Zaban Masala, but surprisingly it knows its vegetarian dishes well too. We tried the Paneer Butter Masala and Tandoori Roti and tasted a bit of heaven. Unlike the regular Paneer Butter Masala, Nayaab spices it up with mirchi and masala. Wrap up the meal with Kesar Tea, their specialty, and strut out in glory. The lunch hours run full-house and you might have to share your table with others, but when is breaking bread with other food lovers not exciting?
Agra Sweets
Old City explorations are entirely incomplete without a visit to Agra Sweets. Go here for the Kesar Pista Lassi which is true ambrosia that can be bought at INR 90 only. Sending you into a frozen frenzy, this lassi comes loaded with the goodness of pista and is thick enough to eat with a spoon.
Anand Bhavan
Known as the Hotel New Udupi Anand Bhavan now, the meals here are an all-vegetarian affair. At INR 55, you can order their Plate Meals that come with dal, curry of the day, rice, roti, papad, and more. This is a filling meal, and you can finish it off with a glass of Butter Milk. Yum!
Mashaallah Arabic Ghawa
While Irani Chai is what defines Hyderabad, our city is no less known for its Arabic delicacies. The Ghawa tea, an Arabic tea, in Old City is something that you shouldn't miss. This has a unique preparation where the well-ground powder of coffee seeds is mixed with cardamom and a minute quantity of cinnamon and slowly boiled to derive a rich decoction. Rose water is introduced into this decoction for an aroma. This is an experience you cannot miss when in Old City. Go to Mashaallah for it, and see if you can get accompaniments in the form of dates or anything else that's on offer. Do note that this stall opens at 7pm.
Iqbal Restaurant
Iqbal is a hole in the wall place that can be easily missed, but the aroma wafting out of the restaurant can be a game changer. While this is great for non-vegetarian food, we found it amazing for the vegetarian delicacies too. We tried the Saag Puri and Bagara Rice here and found them ridiculously delicious. While the Saag Puri can make for a great breakfast, we think it's perfect for a hearty dinner too. The Bagara Rice is a Telangana specialty which is biryani rice cooked without any vegetables or masala powder. This is a simple meal which is also a clear winner.
Milan Juice Center
Food shenanigans, you simply cannot leave Old City without devouring the Avocado juice at Milan. Mixed with honey and topped with cashews and nuts, this juice is your happy ending to eating out at Charminar. Go here, and spend INR 100 on this juice, which is a dessert-like meal in itself.
Did we miss out on your favourite restaurant or food joint? Tell us all about it in the comments below.
Comments