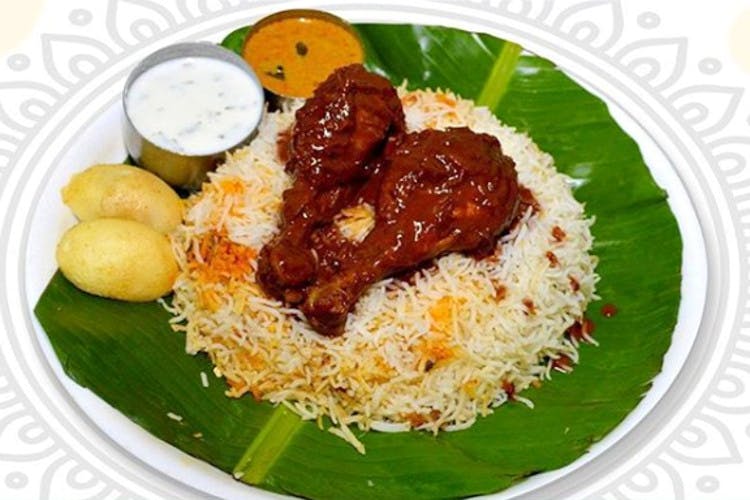 This Restaurant With A Rustic Decor Serves Authentic Coastal Andhra Delicacies
Shortcut
Biryani might be a staple in Hyderabad but Ulavacharu serves up some amazing dishes from the coastal parts of Andhra that you won't find easily in Hyderabad. Go, binge!
Great For
Ulavacharu Biryani, Bamboo Chicken, Ambience
What Makes It Awesome
When we visited Ulavacharu and opened the menu, we couldn't understand the names of the dishes. With a little help from the staff, we started on our odyssey of Andhra cuisine from the coastal belt. The dishes were full of flavour, tender and juicy mutton, prawns and chicken dishes, sauces and chutneys that we've never tasted before, and a spice level that definitely had us on full alert. We started off with Loose Prawns and Mamsam Keema Balls which were both spicy but delectable. Next came the succulent Gongura Mamsam, which accompanied with Ragi Sankati (ragi balls) and they had us polishing off and licking our fingers. And of course they have an enormous variety of rice preparations, but we went with the Raju Gari Kodi Pulao, that has to be eaten to be believed how different this dish is from anything you have ever had in Hyderabad. The portions are pretty huge, and the service is pretty prompt here. It has a very extensive menu covering a lot of dishes from the coastal belt, and also some north Indian as well as Chinese dishes for those who are not brave enough to taste the chili factor here. Finish on a sweet note with Junnu, a traditional dessert made from the milk of a cow that has just given birth.

What Could Be Better
We would really like a chilled beer with a meal so spicy.

Pro Tip
Book a table in advance as there is a long waiting time to get a table, especially during the weekends and holidays.

Comments