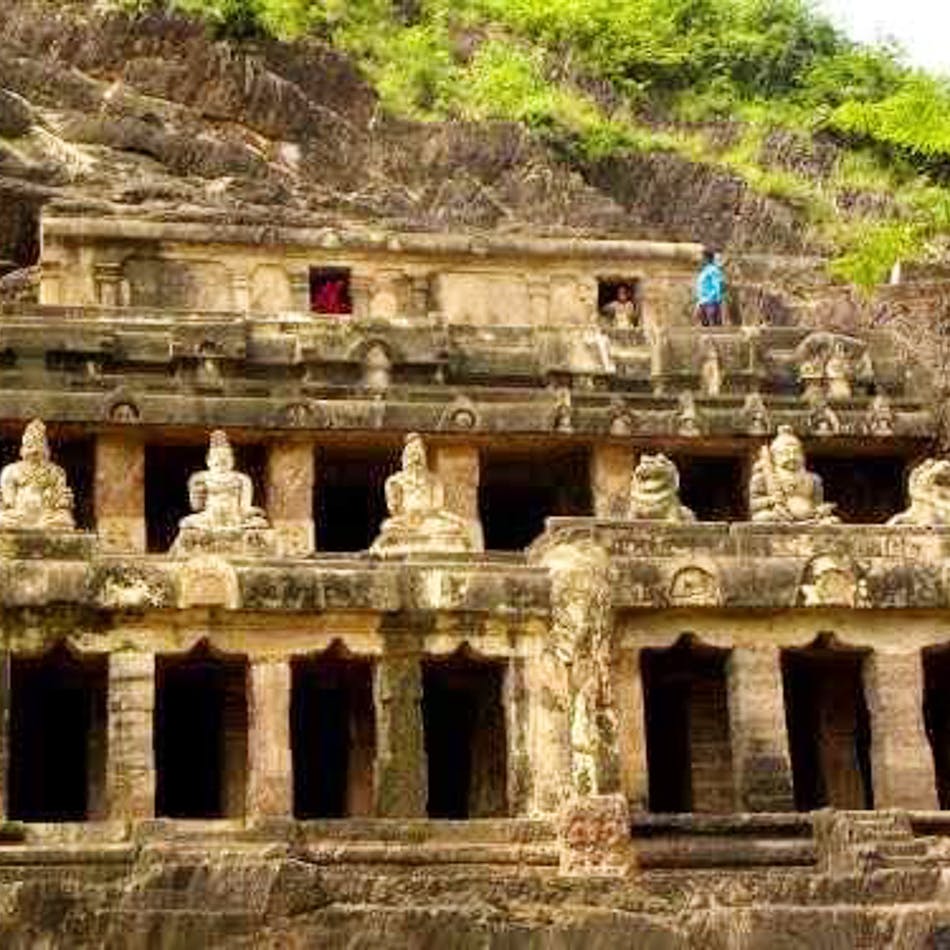 Water Skiing To Exploring Caves: Here's What You Can Do In Vijaywada
Planning a trip to Vijayawada? You won't be disappointed. Located on the banks of Krishna River, there are a lot of places to check out — forts, caves, restaurants, and more. So make this list as your guide and pack your bads for your big trip.
Bhavani Island
Take a boat ride to Bhavani Islands on the Krishna river. You can take a walk around the lush green surrounds of the island or indulge in some crazy fun on the watersides. Feeling a little adventurous? You can take part in activities like water-skiing, kayaking, parasailing, or snoozing on hammocks, go fishing and picnicking with your gang. If you're a morning person, you can witness a pretty sunset or stay back for the night at a resort and catch the sunset.
Undavalli Caves
Just an hours drive away from Vijayawada, Undavalli caves are sandstone structures that date back to 4th and 5th centuries. You can gawk at the splendid architecture from the Gupta period and take a boat ride on the river as well. We're thinking lots of pictures and wonderful memories, are you?
Kondapalli Fort
Go have a fun, day-long picnic with your family near this fort. This marvelous 14th-century fort has great historical importance. It served as a military fortification during the British era and was said to have been built as a centre of recreation, business, and trade during that period. You can admire the breathtaking view of the valley from the fort and shop around Kondapally, too.
Mogalarajapuram Caves
Though a lot has been lost to ruins, these caves still hold religious and spiritual importance and are a landmark in Vijayawada. These caves house the idols of Lord Nataraja and Lord Vinayaka amongst many more, a few temples and a shrine for Goddess Durga which makes it one of a kind in South India.
Kanaka Durga Temple
A famous shrine dedicated to Goddess Durga on a hill, the Dravidian architecture of this temple will leave you in awe. Apart from the religious importance that this place holds, you can enjoy the view of the Krishna River from the top of the hill and take in the city views.
Prakasam Barrage
This bridge connects the Kolkata-Chennai highway and aids in irrigation of more than 1.2 acres of farm land. We're talking about Prakasam Barrage which stands tall on the Krishna River supported by 160 pillars. Woahh, right? We recommend you go here in the night because the entire bridge is lit up with colorful lights that will make for good pictures.
Haailand
Now time for some fun. Just 19 kilometers away from the city, Haailand is a themed cum water park where you can splish - splash in the pool or get on the water rides with your fam.
Babai Hotel
Established in 1942, this iconic hotel in Gandhi Nagar, Vijayawada is loved by all. Famous for its South Indian breakfast dishes like soft, buttery idlis with ghee and karampodi on top, pesarattu with upma, and more, this restaurant gets visited by many celebrities. With a delicious legacy of 72 years, don't miss out on this hotel when you're in Vijayawada.
Ask Apoorva a question