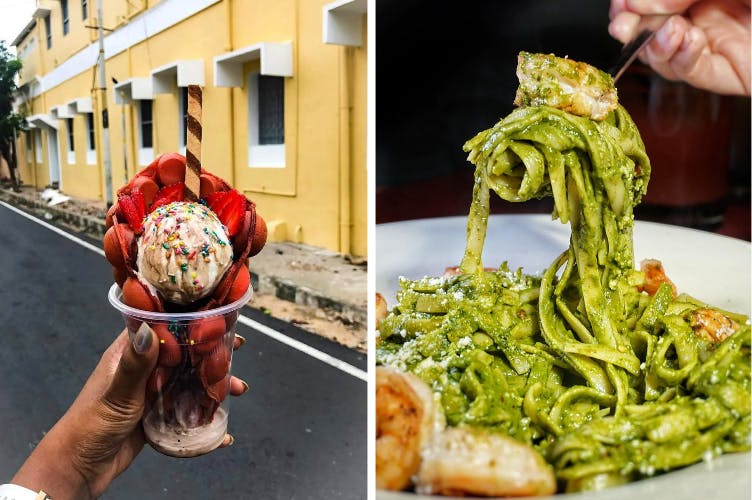 Cheesecakes, Pasta & Filter Coffee: Here's Where To Eat In White Town In Pondicherry
Everyone loves eating at Pondicherry and we know it for a fact. Dreamy desserts to authentic pasta, White Town in Pondicherry is a foodie haven. With plenty of cafes and restaurants in every possible street, where do you go for a gastronomical experience? Where do you go to get the best of everything? If you got no clue then check out our list of eateries in White Town that you cannot absolutely miss. Yes, for reals!
Le Dupleix
What was once a residence of Pondicherry's Mayor is today a hotel-cum-restaurant. Le Dupleix (a 300-year-old property) is a classic restoration of erstwhile architecture with a few modern touches, here and there. We hit up this restaurant for dinner and settled for outdoor seating. The trees here form a canopy over your head which keeps you cool in Summers but watch out for the crows. The area of the indoor seating is limited but try and get seated next to the bar as you can check the bartender whipping some amazing drinkies. We started off with a Trio of Bruschetta and Baby Aubergine Italian Way (bites of heaven) and moved on to Fettucine Aglio Olio. The pasta is homemade and fresh, and in taste, they're winners!
Xtasi Gastro Pub
One word, people — pizza. Popular for its pizzas, we knocked ourselves with mouthfuls of them. The place is nothing big on ambiance but has three floors of packed peeps waiting for their meals (You can opt for takeout too). We started off our meal with Honey Chilli Potatoes — 10 points to the sauce and zero to the undercooked potatoes. We tried out the Prime and Vegetariana Pizza, both of which arrived after a long wait. These wood-burnt pizzas are quite well-made and are huge-sized (So, fold them like Joey's pizza) and are generous in toppings. With no fuss and further ado about the slow service, dig in, and keep diggin' in!
Coromandel Cafe
Love your dinner a little too artsy? Welcome to the club (And Coromandel). Located inside Le Maison Rose, a name it borrowed from its subtle pink interiors and exteriors, this restaurant has a cafe along with a boutique and a bookstore. Dine in the company of trees under the star studded sky for lifting up your mood and explore their menu for great seafood or vegan dishes. Skipping appetizers, we started our meal with Chopped Pesto Fettuccini that is topped with garlic bhindi, spinach, sun-dried tomatoes (whaaaaat!) — east meets west, done right. The Harissa Tomato Macaroni Bake is easily the best mac (without cheese) we relished, and we think this is your simple comfort food with a twist. The next on our plate was Chickpeas and Cashew Pesto Roast Vegetables and this was our little showstopper. Paneer and burnt aubergine were well tossed in home-made pesto sauce and the chickpeas created a fine balance of taste.
#Dilliwaala6
Craving a bit of desi in French quarters? Then #Dilliwaala6 has to be your spot. Colourful scooters, decor borrowed from Bollywood and framed photographs of Delhi's monuments are what defines this place. Expect a lot of families lunching here and it's super noisy (And crowded). This all-vegetarian restaurant makes no good soup or starters but is terrific with its biryani (take it from a Hyderabadi). Do yourself a favour and try the Nawabi Biryani which manages a great flavour without an overdose of greasy oil and masala. Finish up your meal with a glass of lassi or chaas.
Cream Affair
Located right next to Le Chateau, Cream Affair is a dessert bar that whips delicious Boba Tea, ice-cream rolls, and bubble waffle ice-creams. Its candy colour decor accents are totally Instagram-worthy but you can get a picture of you (with your squad) taken at its gallery that is literally a mini amphitheatre without a screen. We got our hands on the Chocolate Boba Tea and Red Velvet Waffle Cone with Bubblegum and Chocolate Sauce. The ice-cream was just too sugary for us, but the Boba Tea had the right mix of chocolate and milk (Makes for a perfect Summertime drink).
Eat My Cake!
After hearing about Eat my Cake! from the good peeps of LBB, Bangalore, we decided to check it out. We fell a little too hard in love with this cafe that is straight out of a fairy tale. Magenta walls, quaint rooftop, al fresco seating are just a few things we love about this space. With a free WiFi scene, you can turn it into your workstation if you got to make those last-minute conference calls (even on a vacation). We tasted the Apple Pie, Cupcake, Chocolate Crumble and all of them were top notch. The Apple Pie had just the right amount of sweet while the Chocolate Crumble had the best layering ever. If you're visiting Pondicherry, don't walk past this cafe! Also, it closes at 6pm, so you might want to get here in the day.
Baker Street
This one came with a high recommendation from all our friends and now we know why! Quiches to croissants and pizzas to burgers, Baker Street nails the baked goods. The ambiance is nothing fancy — in fact, it's rather plain with low lighting but the desserts will win you over. We tried a chocolate cheesecake, brownie, lemon sorbet, and chocolate pie. The cheesecake and the pie demand a standing ovation; the brownie and the sorbet (too sour) were quite a letdown but when eaten together make a wicked duo.
Karaikal Hotel
Craving something that reminds you of home? This Chettinad restaurant is an answer to all your pappu prayers. Binge eat the plated meal (priced at INR 100) here. It comes with unlimited rice, dal, rasam, sambar, and three curries. While we were hoping for papad, the hotel had none, so we had to make do with more sambar (good old Madrasi sambar).
Do note that this is more of a mess than a restaurant, so it can be crowded and messy.
Cafe des Arts
Cafe des Arts welcomes you with bright yellow walls and a colourful auto-rickshaw. Say hello to the fish in a manmade pond and strike a pose against Rajnikanth's painting on a wall. With an in-house boutique selling quirky apparel and footwear on a budget, you might want to check it out. Plus, the bookshelf, vintage cameras, and lampshade lend a heritage touch to the cafe. We tried out a mix of coffee, chai, and milkshakes — while they are alright, your reason to visit this cafe should be its ambiance only.
Hotel De L'Orient
Three cheers to this 18th-century property that has been restored into a hotel-cum-restaurant. Take a seat in the courtyard that is flanked with giant trees and ask for a filter coffee. What arrived was a frothy coffee in a traditional filter (enough to fill two). Grab a book and listen to the birds' chirping as you sip on the coffee. What we also loved about the hotel is its architecture, so be sure to check out the knick-knacks that are used as a part of the decor here.
Comments