The information in this post might be outdated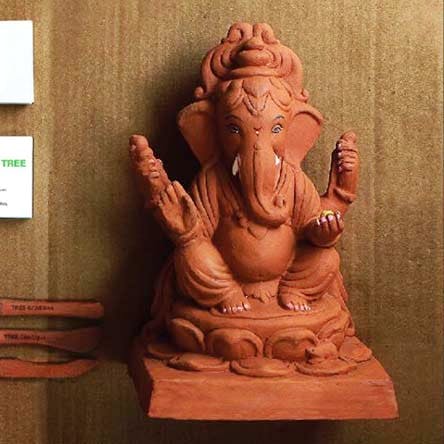 Time To Welcome Our Friend Ganesha: Here's Where To Get Idols In Hyderabad
Ganesh Chaturthi is right around the corner. Knowing how grandly Hyderabad celebrates the festival, we know you're all excited to get home the beautiful idols and deck up for festivities and games in the colony. We've made a list of places around town, and online where you can get cute and eco-friendly Ganesha idols from.
Jai Bhavani Ganesh Idol Sales, Dhoolpet
Looking for locally made Ganesha idols with intricate designs and vibrant colours? Walk into Jai Bhavani Ganesh Idol Sales, in Dhoolpet and find the perfect fit for your temple room. They come in various sizes, shapes, and designs.
Mangalam
Mangalam is known for its handicrafts, and the carving on their structures is absolutely detailed. We particularly love their Jhula Ganesh Urli that you can keep as a home decor long after the festival has gone by too.
Marathi Granth Sangrahalay
Marathi Granth Sangrahalay in Sultan Bazaar hosts dealers from Pune who bring the popular Maharastrain mud Ganesha idols to the city. If you love simplicity, stop here and find serene idols with soft colours at affordable prices.
Tree Ganesha
If you are all for the eco-friendly lifestyle, you must check out Tree Ganesha made of red soil, organic fertilizer, natural colour and seeds. The best part about this idol is that it grows into a tree after immersion. So, order one now!
Shree Omkar Arts
Did you know you can get paper Ganesha idols that are light weight and stronger than idols made out of plaster of paris? Yes, Shree Omar Arts is where you can order them from, and they deliver it home too.
Sage Farm Cafe
Sage Farm Cafe is all about sustainability and they're bringing in eco-friendly Ganesha idols. Their idols are made from 100 per cent clay and natural colours. You'll have to call them and book an idol, though.
Eco Friendly Ganesh
Tucked away in Sri Sri Avenue in Gurram Guda, Eco Friendly Ganesh has to be checked out. These folks take up large orders too, but you have to place an order in advance. Made from pure clay and natural colours, these idols are simple and our friend Ganesha looks his best!
Comments