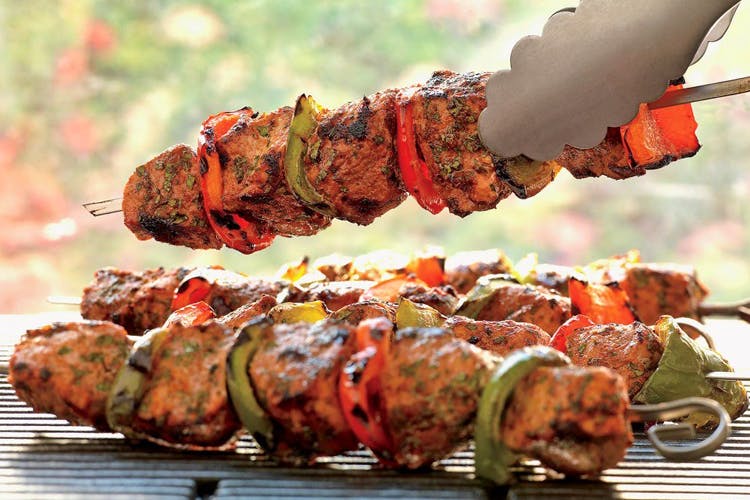 Meat-Up At These 9 Kebab Joints In Delhi
Ten-Second Takeaway
Without a doubt, Delhi has a heart of its own when it comes to local fare and food. Everybody is spoilt for choices—be it the everyday Delhi resident or the traveller in search of an experience. In the quest for food, we found that kebabs hit a soft spot on everybody's palete. That's why we've picked out what to eat at these 10 must-try kebab places in Delhi.
Alkakori Alkauser | Galouti Kebab
Considered a budget meat lover's haven, Alkakori Alkauser does not disappoint with their galouti kebabs; it's light on the pocket and satiates the hunger, too.
Karim's | Mutton Burra
A legendary hole in the wall tucked away in Old Delhi, they're known for their unfussy seating and straight-forward food. We totally recommend the delicious mutton burra.
Khan Chacha | Mutton Kakori Kebab
Old school vibes and charming interiors make Khan Chacha an attractive joint. Their mutton kakori kebab is to die for.
Saleem's Restaurant: Kakori Kebab
A favourite among mughlai-lovers, their kakori kebab is the stuff dreams are made of; best relished with a horde of noisy cousins.
Kebab Xpress | Murgh Malai Kebab
Known for their pocket-friendly everyday meals, it's the perfect meal place for students looking to experience a proper sit down meal with the works. Don't let the humble murgh malai kebab fool you; it is dangerously delish.
Tunday Kababi | Chicken Boti Kebab
This Lucknow based takeaway offers delicious chicken boti kebab and Lucknowi biryani. Sounds like the perfect party food to us!
Kebab Roll Wale | Chicken Seekh Kebab Roll
Known for their kebab rolls, it's hard to excuse oneself from gorging on their yummy chicken seekh kebab rolls. All your evening snacking rituals begin and end here.
Ganesh Restaurant | Chicken Seekh Kebab
Famous for their spicy pudina chutney accompaniment, Ganesh Restaurant serves up some of the tastiest kebabs around. Don't miss this one!
Has reading this article gotten you hungry? No worries; we've got your back. Just fire up the Swiggy app and we'll satisfy those kebab cravings!
This piece first appeared on Swiggy.
Comments