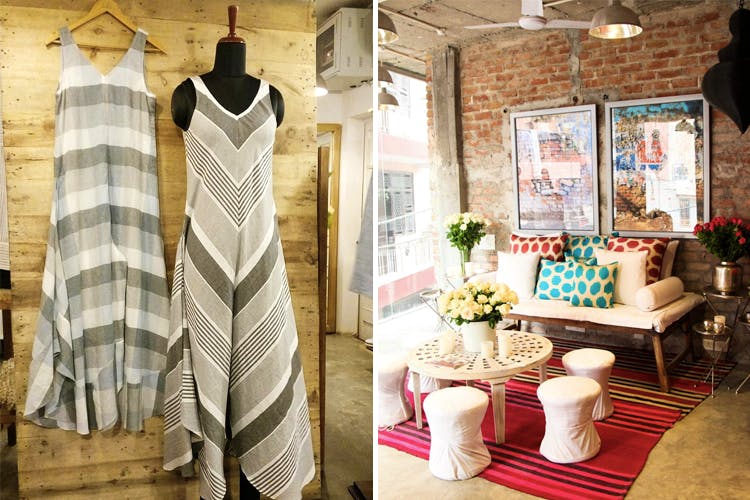 Heading To Shahpur Jat? You've Got To Check Out These Indie Boutiques
Shahpur Jat has a high number of independent and stylish boutiques, and we just went on a look-see to pick our favourites.
Kardo
Gentlemen, with the finest material and hand-finished detail, Kardo's collection of menswear will leave you impressed. They have your basic, block colours, stripes and checks, but also subtle Ikat prints and slightly out-there prints. You'll find ensembles fit for any occasion, and, if not, they're more than willing to tailor a piece for you.
Peek-A-Boo
Line-up, kids—Peek-A-Boo specialises in all things mini-me, from frocks and dungarees, to elegant (and cute) blazers and jackets. They also have shoes in a variety of materials, and will custom-make a design if you have something in mind.
Olivia Dar Accessories
For bohemian-style accessories, Olivia Dar should be your go-to. The designer's label is influenced by her many travels, and the handmade pieces flaunt craft traditions from India as well as Central Asia— all bright, intricate yet understated. Let your accessories do the talking.
Bhaavya Bhatnagar
You can find structured separates and chic work-wear that'll translate seamlessly to evening wear and Indian ensembles. Bhaavya Bhatnagar's strong suit is her dresses and concept sarees, and she takes inspiration cultural and artistic diversity from around the world—meaning that the silhouettes are edgy and modern. This is statement-wear all the way, ladies.
Bhumika Grover
Turn to Bhumika Grover for all your Indian and bridal apparel needs. She carries a selection of fairly understated Indian wear, as well as pieces that are high on embellishments (bling bling). They might be willing to alter one of their designs as per your requirements, but, for the most part, custom-wear is not high on their list of services.
Second Floor Studio
You'll find everything from wall-to-wall art pieces to smaller home-decor pieces (such as cushions, linens and ceramic plates) at Second Floor Studio. Consider it candy-land for those with eccentric, out-of-the-box taste.
Lila
Small and rustic, Lila does traditional materials (all natural) and prints in contemporary silhouettes. They have a mix of shirts, pants, kurtas, scarves and jackets with lively prints, while the others have materials (such as silk) that add all the quiet sophistication needed.
Aum
We absolutely love the Gujrati and Rajasthani inspirations on their jackets, kurtas, lehengas and sarees. The owner is available at the store, and is usually quite happy to help you pick. The ensembles aren't as expensive as the others, and you'll surely find some stunning pieces—the Kutchi artwork is especially stunning. Their pieces are meticulously crafted in-house.
Comments