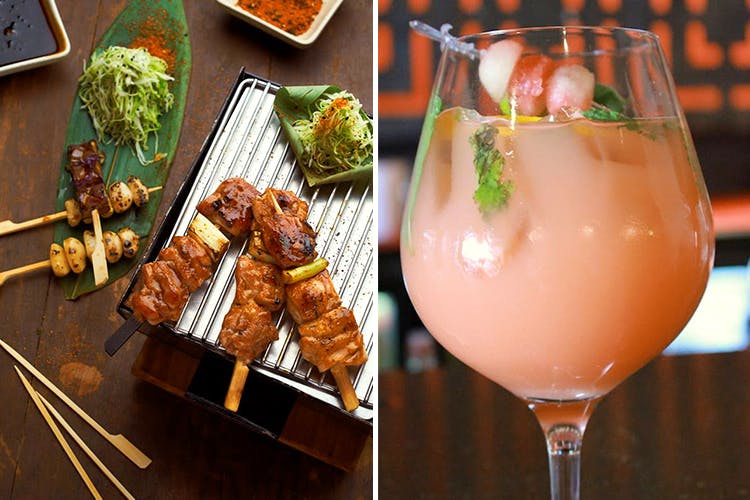 Here Are The Best Weekend Brunch Spots In Delhi
We picked our top 7 weekend brunches. From Indian food, to Continental, and all the way east to Japanese, we have you covered.
Olive Bar & Kitchen
Olive takes their Sunday brunches very seriously, and all for good reason. Their brunch's reputation precedes even the food. Although the brunches are studded with high heeled, bags in the nook of the elbow, Delhi glitterati, the food goes a long way in distracting. Choose from a massive spread of pizzas, pastas, soups and salads, all living up to Olive's general high standards. They don't allow a la carte during brunch hours.
Price: INR 3395 +Tax (With unlimited alcohol)
INR 2895 + Tax (With unlimited non alcoholic beverages)
INR 1295 + Tax (Kids Brunch (below 10 Years))
INR 3895 + Tax (Unlimited alcoholic beverages including sparkling wine)
Guppy
Guppy really outdoes itself with its Sunday Hanami Table Brunch. You don't get to help yourself to a buffet but you can order unlimited helpings of what's on offer. Dig into a ton of sushi, Udon noodles, Sweet Potato Teriyaki skewers along with their signature Gari cocktail or a bottle of wine.
Price: INR 1845 + Tax (Unlimited Food & Non-Alcoholic Beverages)
INR 2395 + Tax (Unlimited Food & Alcohol)
Set'z
The brunch at Set'z probably needs no introduction, but we'll throw it in for good measure. Instead of choosing pre-made dishes, you can get your meal customised according to your palate. They specialise in an array of cuisines including Thai, Italian, Continental, Indian, Japanese and even Hyderabadi.
Price: INR 2950 + Tax (For Sparkling Wine Brunch)

Fio Cookhouse
The brunch at Fio Cookhouse is an eight-course affair. And if you drink, we urge you to sign up for the Premium Tipple Sparkling Brunch and enjoy glasses upon glasses of their Chia Melon Martinis. They've also got brunch deals with soft drinks and sparkling wine.
Price: INR 2399 + Tax (8 course meal with unlimited soft drinks (Teetotaller Brunch))
INR 2899 + Tax (8 course meal with unlimited imported wine & beer (Tippler Brunch))
INR 3399 + Tax ( 8 course meal with unlimited sparkling wine (Premium Brunch))
Pa Pa Ya
Pa Pa Ya may come across as expensive on a regular day but come Sunday and they're ready to cram you stomach with a variety of dishes (pecking duck, corn cakes, dumplings etc) along with unlimited beer or sparkling wine.
Price: INR 1900 + Tax ( Unlimited Sushi, Dimsum & Duck. Add Rs 1000 and get unlimited Beer & IMFL)
INR 1500 + Tax (Unlimited Sparkling Wine)
INR. 1750 + Tax (Champagne Package)
INR 350 + Tax(Mocktail Package)
Tonino
Tucked away on MG road, Tonino has on offer a live pizza and pasta counter, soups, salads, and a giant dessert line up. Also, it's an oasis of sorts – maybe it's all the greenery and open architecture – but we find it's the closest you'll come to feeling like you're not in an overcrowded city. The Sunday brunch sees a live wood-fired pizza and pasta section too.
Price: INR 2050 + Tax (With two non Alcoholic Drinks)
INR 2350 + Tax (With two glass of Imported wine or Pint of Beer)
INR 2550 + Tax (With two glass of Sparkling Wine)
Kylin Premier
Kylin's got amazing food and an even better ambience, so if you're in the mood for some Sunday brunching amidst their tented, al fresco decor, we say you book your spot right away.
Price: INR 2195 + Tax (Includes Red & White Sangria, Cocktails, Domestic Beer & Aerated Beverages)
INR 1595 + Tax (Includes Unlimited Mocktails & Soft Drinks)
INR 795 + Tax (For children below 10 years of age - Includes Unlimited Mocktails & Soft Drinks)
Comments