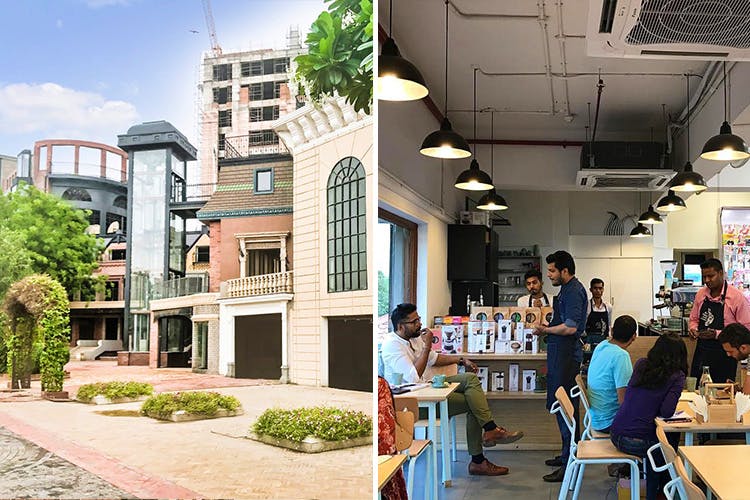 Revamp Alert: 32nd Milestone's Getting 35 Eateries, Flea Markets & More
Shortcut
If you don't have memories of going bowling or go-karting at 32nd Milestone, you missed out on an iconic landmark before Gurgaon became all slick and cool. In fact, it was where all the action was before Cyber Hub took the limelight away with its restaurants, gigs and gimmicks. Cut to 2018, and 32nd Milestone is getting a massive makeover and it'll go by name 32nd Avenue, in its new avatar. Read on for more deets…
Khan Market Feels In G-Town?
The idea is to recreate a sense of quaint charm and make it Gurgaon's Khan Market. Ahem, don't know how close they'll come, but for now, we're kicked about seeing 35 restaurants (including some Michelin star ones), shopping pop-ups, co-working spaces, high-street fashion brands and more set up shop here.
We already told you about Carnatic Cafe opening. Blue Tokai, Ping's Orient, Pot Belly, GreenR, ATM and Pinxto (French cuisine), Dough Boy (gourmet pizzas and burgers), Laut (a USA-based Michelin star, Malaysian cuisine brand) and The Clock Tower (a microbrewery, yay!) are other restaurants you can hope to see as time goes by. They're looking at 15 of these opening by mid-December.
Get our drift already? They're trying to become a young, hip hangout where office folk from nearby places can come work, grab lunch, drink beer after office – or just plan a family day out.
P.S. A little birdie tells us that we can hope to see a skydiving arena and an infinity pool in the future as well. Excited about meeting 32nd Avenue? We sure are.
More Information
32nd Milestone
Nearest Metro Station: HUDA CITY CENTRE
Comments