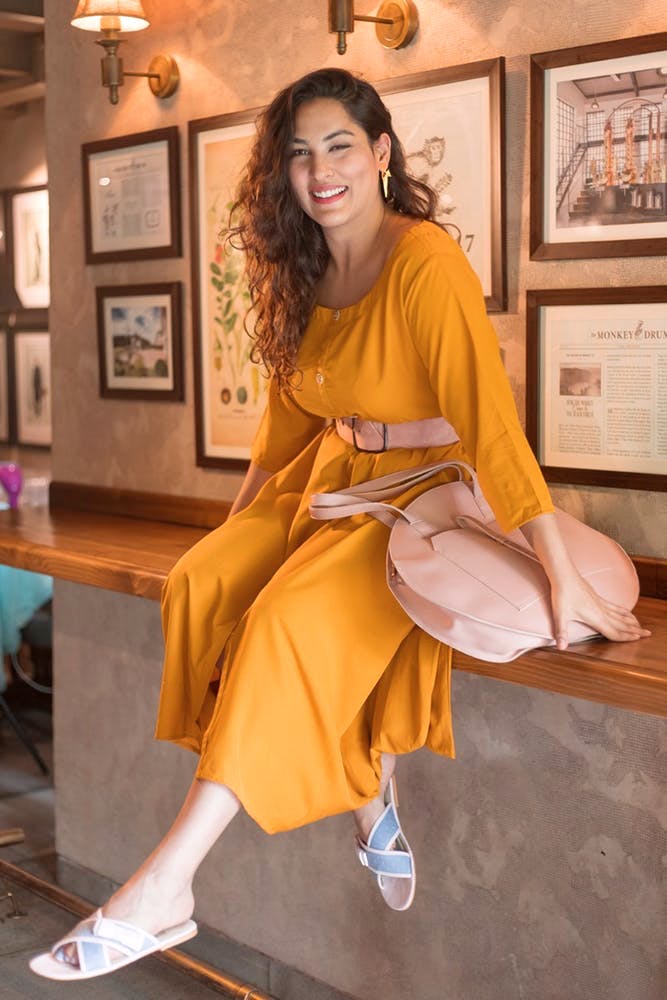 5 Rain-Ready Styles That Are Influencer Approved
Let's face it- pretty much everything we wear's influenced by our most <3-ed bloggers. With summer nearing its end (finally!) and monsoon knocking on our doors, we figured - why not ask the pros what they'll be sporting during rainy days? Luckily, they spilled...
Striped Jumpsuit
"I recently discovered this FAB striped jumpsuit made by Zachi and I can't recommend it enough. The look is perfect for a casual girls' brunch, a semi-formal work event and even a shopping date. When I found it on LBB for 50% OFF, I couldn't resist. I love the navy-mint green combo and the tie-up belt really flatters my waist. The length ends well above my ankles and the non-transparent crepe material is stain-proof, making it an easy pick for rainy, muddy days."

- Malvika aka @thedailyaloo
Overlay Yoke Jumpsuit
"I personally LOVE the rain but when it stands in way of my style choices, not so much. So I dug around and found some AMAZING dresses on LBB that look great on a pouring day too. This animal print overlay jumpsuit is one of my fav picks - it comes in a super happy blue (just how I like it), has exciting knots on the sleeve, and gently accentuates the waist too! It's not unnecessarily long (like other full length jumpsuits) and the material doesn't stick despite the humidity."

- Sakshi, aka @stylemeupwithsakshi
Balloon Bottom Asymmetric Dress
"I found this dress on LBB for ₹950 only and ordered it immediately! I've already worn it twice this season and got so many compliments. The colour's brighter than sunshine (perfect to lighten up a gloomy day), the balloon bottom is so different from what I usually find and the fabric? Super lightweight and weather-friendly. It's a steal for this price if you ask me."
- Sakshi
Multicoloured Tassel Gingham Dress
"As far as I'm concerned, monsoon-outfits need to be as easy to put together as possible. The key to nailing the perfect rainy day look is comfort - something you can lean on repeatedly. Flowy and fun, this comfy dress has a monochrome chequered pattern with pin-tucks, stitch detail, and vibrant tassels on the front. It's made with really high-quality thread work and it's available on LBB for ₹899 (yay!). JFYI: You can get this whole look for ₹2239 only.
- Urvashi aka @therightshadeofred
Striped Kimono & Trouser
"Not your average stripes! Choose this effortless Kimono and trouser set on days when its pouring but you gotta step out in style. It's got a super relaxed fit, I literally feel like I'm in pyjamas, requires no extra styling, and if you're anything like me you would even skip the white inner and knot-it up at your waist! Trust me, it looks BOMB AF!"
- Sakshi aka @stylemeupwithsakshi
Comments