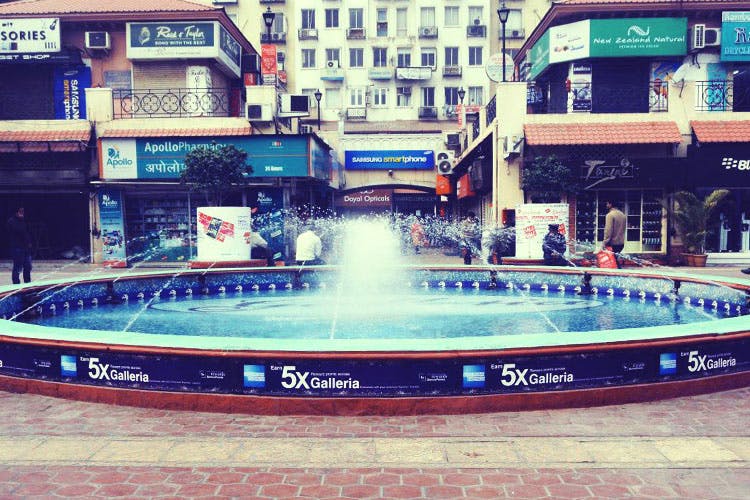 These 5 Markets In Gurgaon Have It All - From Mobile Chargers To Export Surplus Clothes
Whether you've lived here for ages or just moved to Gurgaon, it's always good to know where you can get what you need for home and hearth. Mobile phone accessories, baked goodies, return gifts or export surplus fashion – here's where to go and what to buy.
Galleria Market
Hit up the market with the fountain for all your mobile phone needs and some more. This is the best place to score mobile phones, chargers, phone covers and accessories but if you venture on to the first floor, you can find great deals on shoes and some fantastic food. From chaat to baos, Galleria is also a great place to grab a giant burger at Joint Café and catch a gig at AMPM.
This market also hosts some of the finest salons of the city!
Plaza Market
Mobile accessories are cheaper at Plaza Market, but this is also the best place for samosas and golgappas. It's a bit of a maze but the walk is worth the effort; score affordable juttis, slippers and crocs here as well as stationery and gifts. If you're still into DVD's and magazines, then this market still has stores for those!
Shopping Mall/Arjun Marg Market
Also known as Arjun Marg market because that's where its located, this is best known for Modern Bazaar, the grocery store that has it all – from marinated, ready-to-cook meats to fresh breads, gluten-free goodies to imported breakfast cereals and chocolates. Also host to export surplus shops, this is the place to stock up on budget fashion.
Don't miss the kebab rolls at Qureshi while you're there!
Vyapar Kendra
This market is yet another maze with loads of hidden delights – they have old-school tailors who will alter just about anything, budget printers, a shop that sells every possible namkeen ever made, a kitchenware wholesaler where you can get everything from an Idli maker to every possible size of whisks and sieves.
Don't miss the Japanese bakery, Iroha, here, it's absolutely delightful. This is also 'the' market for birthday decorations and return gifts on a budget!
Good Earth Centre
This is the go to place for branded fashion stores that sit side by side with export surplus shops, so there's fashion for every budget. There's a shop for buttons, gota, lace and patches if you like designing your own clothes.
There are great gift shops on the first floor, from return gifts to home accessories and décor goodies. Grab a kathi roll while you're here and wash it down with a Keventer's shake from the kiosk in the centre!
Comments