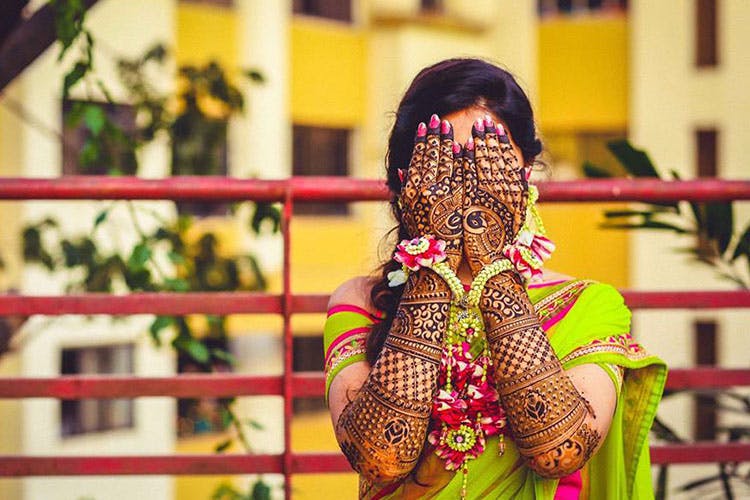 Bestie Getting Married? Check Out These 5 Mehndi Designers In Delhi
A Mehndi ceremony in India is one of the most celebrated pre-wedding functions. Mehndi is not just loved for its beauty or color but is an important part of the wedding rituals and is believed to bring good luck to the couple. From traditional, modern to minimal, there are various designs to choose for your wedding day.
Here are the five best talented mehndi artists in Delhi.
Anuj Mehendiwala
Anuj started applying mehendi as a hobby and it eventually blossomed into a profession. With an experience of more than 20 years, his style is a convergence of Arabic and Indian designs. He truly enjoys the art of mehndi and feels privileged to be pursuing it as a profession.
Book now.
Kundan Mehendiwala
Kundan, known for his specialization in Rajasthani, Arabian, Indo Arabian, Mughlai, Hyderabadi, Zardosi, Magic Mehendi, Indian. His Mehendi designs are unique, elegant and beautiful with a mix of modern and traditional touch.
Book now.
Bittu Mehendiwala
Bittu and his team create designs that are totally offbeat and highly creative to grace any occasion – whether it is your wedding, festival or any other ritual.
Book now.
Manoj Kumar Mehendiwala
Manoj & his team offers a range of designs such as traditional, Rajasthani, Bombay Style, Jaipuri etc. He also uses toothpicks, knitting needles, and paint brushes to customize his designs, which is a cool way to add more creativity in the mehendi.
Book now.
Raju Mehendiwala
Raju Mehndi Artist believes in the fusion of traditional and modern mehendi designs. With over 22 years of experience in adorning brides, he is just perfect at his job.
Book now.
Comments