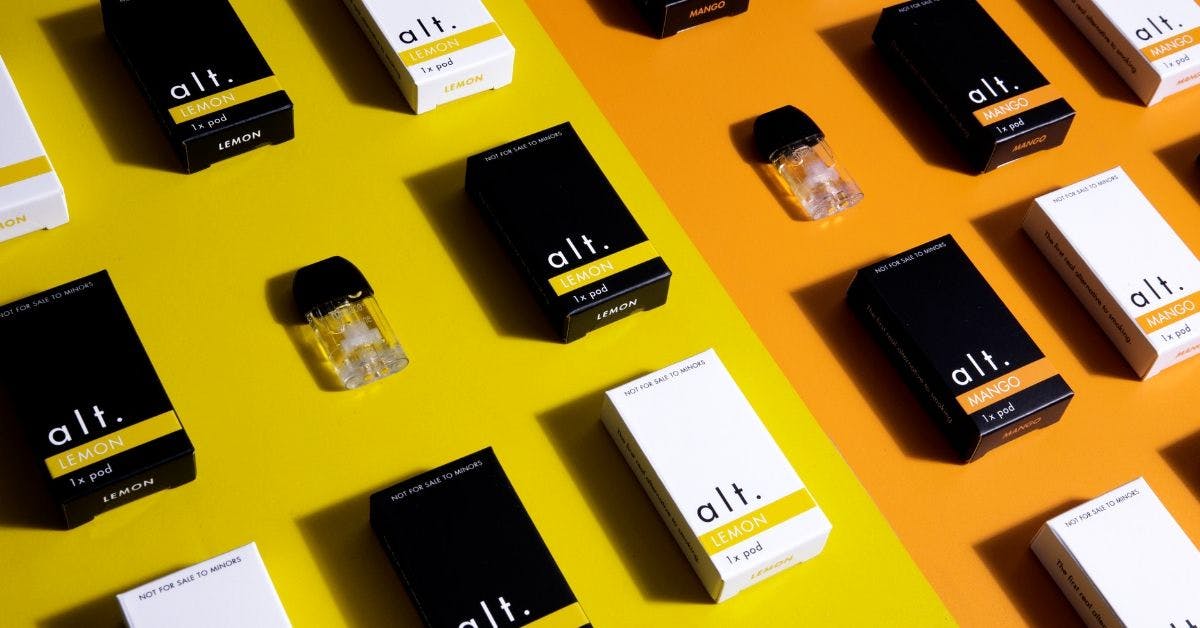 #SwitchToAlt: 5 Reasons Why Alt. Vapors Is Your Alternative To Tobacco
Tired of trying to find an alternative to smoking, don't worry, we've got you covered! alt. vapors launched India's first buttonless vape with a disposable pod-system and amazing flavours. The brand was started in 2018 by Arjun Goel and Viraj Mohan with a simple goal: give Indian smokers an alternative to traditional tobacco cigarettes.
Reasons to switch to alt.
It's almost 2020 and all of us know enough side effects of smoking cigarettes: the health hazards, the disgusting after-taste, the bad breath, and constant odour from hair, hands and clothes. The alt. starter kit is priced at INR. 2,999 and comes with an alt. Vape device, a magnetic charger and 4 flavoured pods (tobacco, lemon, mint, and mango). Keep reading to know why smokers are switching to alt. Vapors!

Easy, Affordable and Accessible
It is super simple to use! All you've got to do is plug in an alt. pod into the alt. device and take slow gentle puffs. Each alt. Pod of your desired flavour lasts for as long as two packets of cigarettes i.e. 40 cigarettes. Once the pod is over, just pull it out and replace it with a new one. Each pod costs only INR 299 and is easier on your pockets as compared to cigarettes. The device and pods are readily available on the altvapors.com website.

Sleek, Stylish & Satisfying
The sleek design makes the alt. vape super easy to carry and use. It looks slick and has a really cool neon green that lights up when you take a drag. This design is a big improvement on the old vapes which were bulky and messy to refill.
alt. gives you the same satisfaction as a cigarette, it gives you the same throat kick upon taking a drag and is as functional and portable as a cigarette without all the downsides of smoking - tar, tobacco, ash and other thousands of toxic chemicals & carcinogens.
0-Nicotine Option
alt. is the only pod-based vape in the market with a 0-nicotine option. alt. 0% nicotine pods come in the same flavours as the nicotine ones and are cross-compatible with the 3% device. Nicotine is addictive, so if you are looking for just an oral fix or something that you can smoke casually once in a while with friends at parties - 0 nicotine is your option. It just has glycerin and glycol (stuff that goes in most FMCG products like lip balms, moisturizers, etc) and the flavour essences which make each alt. flavour unique.
Same Day Delivery and Subscriptions Program
We have all gone through the anticipation when we wait each day for our order to arrive. The excitement builds up, impatience is on the rise and we're just too eager to see our order. It's worse when it is your daily nicotine fix. alt. is trying to solve these problems with their same- day-delivery for Delhi NCR.
Orders placed on the website before 2PM and selected for express delivery are delivered before 9PM the same day. In case you face any issue, they have a great customer service who are always eager to help.
alt. is also launching a subscription program for regular users who want a box of pods auto-shipped to them with huge additional savings! Keep a look-out on their website and follow them on Instagram to stay updated.
Referral Program
Don't miss out on their referral program that rewards loyal customers who recommend alt. to friends, family and colleagues. You get a free pod every time someone purchases a starter kit using your code. You can know more about their referral program here. It's really helpful to get that extra free pod when you're running out of yours.
So, We're Saying..
In short, it's affordable, it's slick, it's portable, flavours are awesome, you don't have to step out to buy your pods and you get rewarded every time your friends make a purchase. Wait, there's more! Kunal Kamra and Tanmay Bhat also use and recommend alt. In case you needed any validation.
Pro Tip? alt. is the perfect gift for the upcoming festive season with their starter kit priced at INR 2,999. Want to know why Alt Vapes claims to be the first real alternative to smoking? Check out some real user reviews here.
Comments