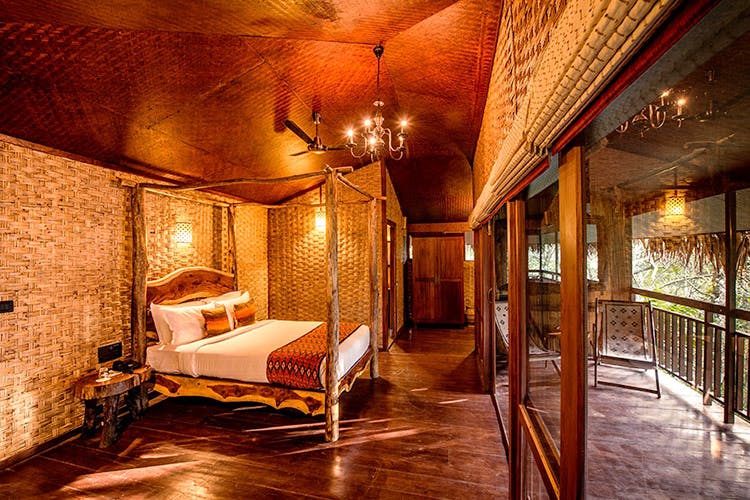 Planning A Trip Down South? You Can Enjoy Nature At These 5 Retreats With Gorgeous Rooms
Going on a holiday to any place in South India requires you to block a large chunk of your calendar but boy, is it worth it! Places such as Munnar, Kovalam and Karnataka have a lot of properties that are in the lap of nature, offer the best of amenities like private pools, gardens and Ayurveda spas to ensure the most comfortable stays. Check out these five retreats that RARE India recommends for the perfect long weekend vacay.
Niraamaya Retreats Cardamom Club
With a luxurious boutique retreat in Kovalam and a private cardamom plantation retreat in Thekaddy, Niraamaya brings you the best of both within a brand that endorses wellness and Spa. Kovalam offers stay in individual Kerala style cottages designed by transplanting heritage homes from across the state and each cottage/room's designed for optimum views of the sea or the lush tree cover. Perfect as a family getaway or a romantic sojourn, the six intimate and chic cottages at Cardamom Club include all comforts with many en-suite highlights like an open to sky bathroom, a walk-in wardrobe, sit-outs with views of the plantation and forests.
Pepper Trail
Conceptually beautiful and passionate endeavour, Pepper Trail is a six-room plantation stay promising a well curated experience under Anand Jayan's obsessive eye. This space has birds to be seen, trails to be walked, cuisines to be explored, spa experiences to indulge in and tree houses perched 40 feet above the ground that are truly breath-taking for their architecture and stunning simplicity. The old British plantation bungalow has two suites while two pool villas capture nature in the lap of luxury. The central deck and pavilion stand amidst trees and offer a sight to behold.
Rajakkad Estate
Deep in Palani hills, just under a two-hour drive from Madurai are verdant forests, home to tribes who make a livelihood for themselves collecting honey and other produce that the forest generously bestows upon them. It is here that Francis Fry created the amazing story of Rajakkad Estate, a 40-acre coffee and pepper plantation where he transported a wooden palace from Kottayam in 30,000 pieces across the border with the help of Robesh, his estate manager. Today Rajakkad Estate is a unique homestay sitting pretty atop the Palani hills promising travellers great food, indulgence to rejuvenate themselves in the midst of a busy South Indian Sojourn.
Windermere Estate
Dr. Simon's Windermere Estate in Munnar is a story to enliven campfire chit-chat in the hills over a glass of heart-warming 'jungle tea'. Rooms are set in bungalows built like the plantation homes of yore with high gabled roofs, terracotta and wooden floors, sturdy teak furniture and hand embroided linen. There is a sense of uncluttered style to the rooms of Windermere Estate, spacious and lit by natural light. Cottages, garden rooms and plantation villas open out to vistas of the beautiful hills and vales of Munnar, just about three hours' drive from Cochin.
Shreyas Yoga Retreat
Shreyas is possibly the only Retreat in India which is dedicated to the concept of Yoga and wellness in what can be termed minimalist and meditative luxury. It is a retreat that's ideal for providing wellness, health and rejuvenation through the philosophy of yoga, expert spa treatments and the reviving qualities of healthy vegetarian cuisine.
Spread across 25 acres of estate the space includes cottages, organic garden, swimming pool, amphi theatre and a yoga pavilion. Besides wellness programs, Shreyas encourage guests to participate in 'Joy of Giving' as a part of the community projects that Shreyas supports in the neighbouring villages.
Comments