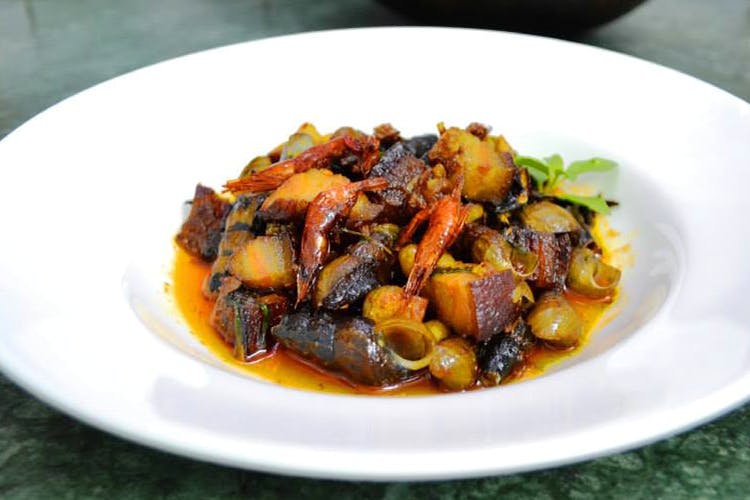 Pig Brain & Fried Cookies: How Many Of These 5 Crazy Things Have You Already Tried?
It's easy to call yourself a foodie in this incredible city with its myriad cultures and diverse food options. But are you really someone who loves food in all it's forms if you haven't tried the craziest shit out there? Here's your chance to find out.
Pig's Brain
Jadoh With Doh Khileh is a popular delicacy of Meghalaya. Joadoh is prepared using rice and animal stalk i.e. chicken's blood and intestines. Animals apart from chicken can be used for this dish. It's usually served with Doh Khileh, but they can be eaten separately too. Now, the interesting thing about Doh Khileh, is that it may seem like your regular pork and onion salad, but it's actually garnished with pig's brain. Nevertheless, if you're into North-Eastern food, both these dishes are worth checking off your bucket list.
Where: Yeti, The Himalayan Kitchen, GK II and Hauz Khas Village
Goat Testicles
Yes, that's right. You can try out goat genitalia at Jama Masjid. Popularly known as 'Kapuras', they're available both cooked and raw. It's surprisingly popular, possibly due to the fact that the recipe has been perfected over centuries. They were a delicacy during the Mughal empire, and taste just like any other meat, if not crunchier and slightly tougher. They can be served in the form of kebabs, curry or even just on skewers.
Where: Jama Masjid
Fried Oreos
Ever heard of fried cookies? Well now you get to try out fried Oreos, and no, this is not a drill. CJ's Fresh has a dessert called Mo's Nutella Fried Oreos; they become warm and crispy and are loaded with Nutella, dark and white chocolate.
Where: CJ's Fresh, Lodi Colony
Creamy Cheese Fried Momos
We've seen it all, chocolate momos, soy momos, but the creamy cheese fried  momos done in Tilak Nagar beat them all. They're available in both vegetarian and non-vegetarian options. They're basically fried momos with literally litres of cheese and mayonnaise added to them. Definitely not for the weak-willed, and if you're trying these out, we hope you're not serious about your diet.
Where: The Tummy Section, Tilak Nagar
Snail Curry
Snails are a delicacy in many countries, and before you get grossed out, we'll have you know that snail curry is delicious and flavourful. A speciality of Manipur, this dish isn't easily available, but if you want an authentic taste of snail curry and rice, you're in luck. This curry is made with river snails; we advise you to try it only if you have a taste for North-Eastern food. If you do, you're in for a treat. If not, it's one for the books.
Where: The Categorical Eat Pham Restaurant, Safdarjung.
Comments