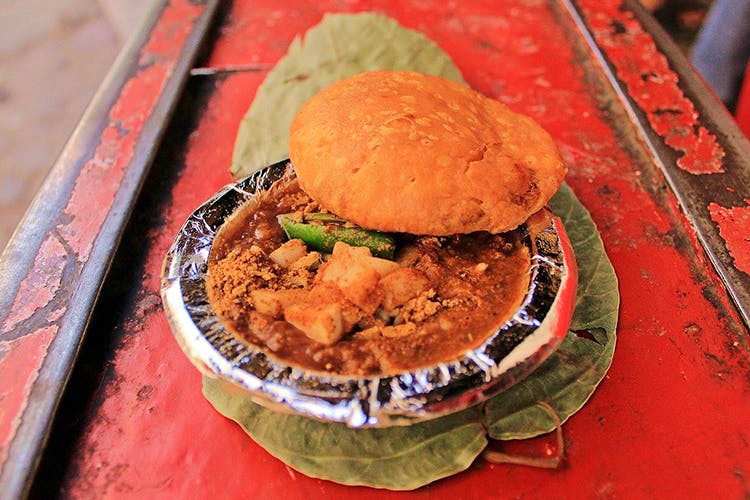 Delhi Food Walks Tells Us 6 Awesome Places To Eat At In Paharganj
We recently teamed up with Delhi Food Walks and spent a Saturday afternoon with Anubhav Sapra and 20 LBB readers, sampling all sorts of yummy food in Paharganj. You weren't there? Here's what you missed.
Moth Kachori At Multan Moth Bhandar
We started our walk on a spicy note with Moth Kachori. A perfectly crisp kachori sitting atop a gravy of rice, dal, onions and a whole green chilli. We were pleasantly surprised that this wasn't overloaded with oil. And it still tasted pretty fantastic!
Multan Chole Chawal & Geela Kulcha
We think this is for lazy chhole kulchhe enthusiasts. The chef takes a kulcha, shreds it up into slivers, dips it into a donga of chhole and waits for the gravy to get absorbed. The mixture is then put on a plastic plate and served to you. Dig in with a spoon and enjoy the mess-free delicious concoction.
Moong Dal Samosa & Malpua At Janta Sweets
Dal inside a samosa? Clearly, someone thought of it. Try this just for the sheer novelty. And follow it up with a portion of malpua. This is surprisingly not too sweet and serves as a perfect end to the meal… before we head to other stalls.
Bibimbap At Shim Tur
One of Paharaganj's most famous "hidden gems", Shim Tur is a super cute cafe on the second floor with an open terrace as well as cosy indoor seating.
The menu comprises authentic Korean fare including delish bowls of Bibimbap, Korean Barbecue and plates upon plates of spicy Kimchi Salad. Brush up on those chopstick skills before you go!
Chur Chur Naan At Chawla De Mashoor Special Naan
Order a thali here and you'll, in all likeliness, be sorted for the day – it comprises naan, dal, chole raita and chutney. The Chur Chur Naans come in variants including aloo, pyaaz, gobhi and paneer. Brimming with butter, you can only imagine how delectable these are.
Cheesecake At Appetite German Bakery
Unlike the flaky, crusty, creamy cheesecakes we're used to, Appetite German Bakery does a version which is fluffy and more like a tea cake.
You may want to try the Chocolate Cake and the Lemon Cake too. The portions are great. The only downside is they have their good and bad days, so they're not always the most consistent.
Comments