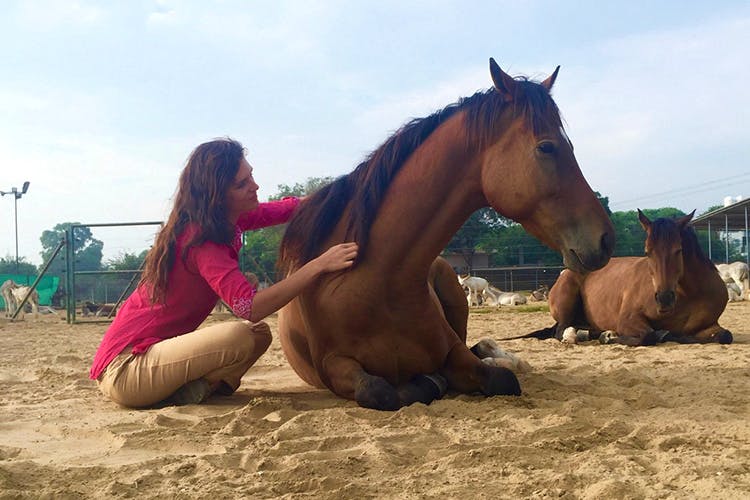 This Horse Whispering Experience Is Every Animal Lover's Dream
Shortcut
We've all heard stories of horse whisperers, well here's your chance to become one. Held in the heart of Haryana's countryside, Airbnb's horse whispering experience is absolutely enthralling,
Become A Member Of The Herd
Though it's a little tricky to reach the Gurgaon Polo And Equestarian Club, the breathtaking drive through the fields of green and gold make it worth it. Hosted by Charlotte and Manjeev, a charming couple who have trained in the skill of horsemanship, this experience allows you to bond naturally with horses. Taking place at the foot of the Aravallis, this gorgeous property is home to some stunning horses, families of peacocks and some adorable dogs. Beginning with some basic demonstrations, the art of natural horsemanship seems simple at first, but requires dedication. The aim of the exercise is to communicate with the horse through the use of body language and respect, and the results are truly stunning.
The experience of being able to communicate with an animal in a manner similar to a human, and to have them reciprocate to your actions, is almost indescribable. Coupled with the gorgeous natural surroundings of the area, it's easy to forget the concrete jungle, this place seems to be a world in itself. It's a unique initiative to make people aware of a more humane form of interaction with these majestic creatures.
So, We're Saying...
This is definitely something every animal lover should try out. It's open to children as well, and a great activity for your little one to indulge in. You can check out the Airbnb website for bookings and further details.
Comments