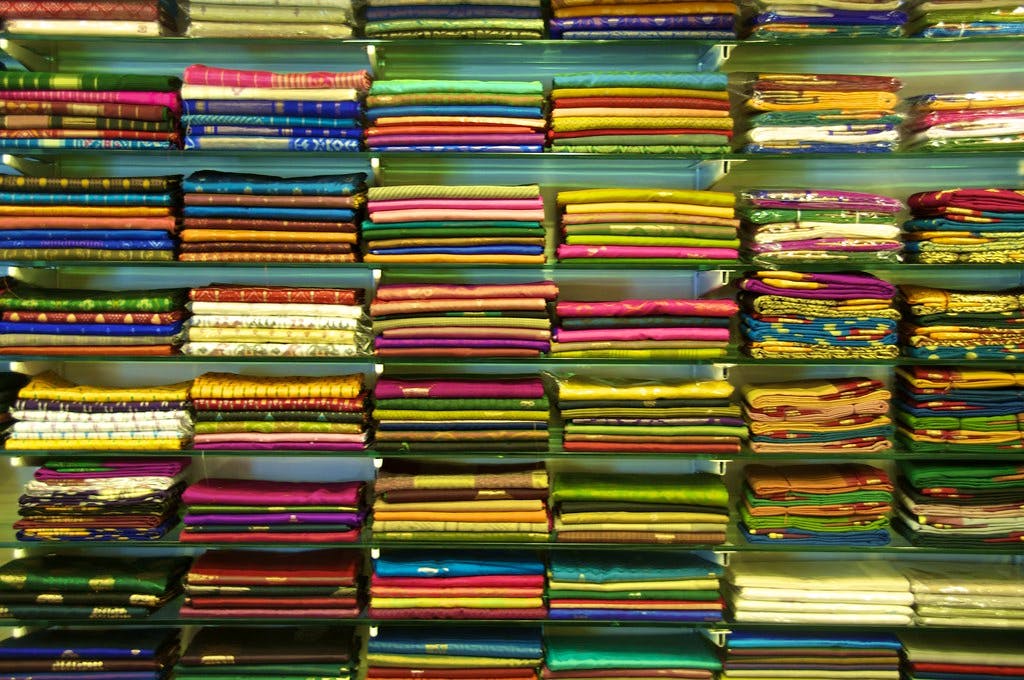 Need A Sari For A Wedding? These Brands Will Impress You With Their Collections
No matter what silhouette is making waves right now, the one item of clothing that has been proven to be timeless is the sari.
If you aren't planning on wearing a sari for an upcoming wedding, allow us to change your mind. Here's a list of the best sari brands that do stunning and fresh designs.
Raw Mango
For a fresh, ever so slightly more contemporary take on handloom saris, check out Raw Mango. If Raw Mango has forever been on your wish list (just like ours), the shaadi season would be the ideal time to get one for your wardrobe
Price: Starting at INR 5,500

Katan Weaves By Ruchika Modi
Want a Banarasi sari for yourself? This store in Meherchand Market has a gorgeous collection of these traditional saris which feature designs that appeal to a younger crowd.
You're likely to find traditional Banarasi weaves on silks and georgettes with an interesting addition of badla work here, gota work there, to make them slightly more new-age.
Price: Starting at INR 7,000

Kalpana
If you're looking to wear a silk sari for a winter wedding, look no further. Kalpana always has an exquisite collection. They handpick each piece from weavers and artisans from all over India. From Banarasi to Kanjeevaram, they have a collection that's not too elaborate, but is brilliant for sure.
Price: Starting at INR 5,000
House Of Masaba
If going full-fledged traditional with handloom saris isn't your thing, check out Masaba Gupta's collection. You'll find the typical Masaba elements—quirky prints and fun colour combinations. Pretty cool for a sangeet or cocktail.
Price: Starting at INR 12,000
Vidhi Singhania
Vidhi Singhania's eponymous label is a blend of traditional and contemporary wear in handwoven and embroidered Benarasi silks, Kotas, and georgettes. She nurses a special spot in her heart for Indian handloom, the ancient fabric of Kota in particular.
Check out her store for a whole range of embroidered and handwoven saris, as well as leheriya, hand-painted, and batik print saris.
Nalli
Your one-stop-shop for all things handloom, Nalli is the place to go if you need to buy a sari and have no time. Banarasi, Bandhani, Pochampally, Upada, Sambalpuri, Patola, or Kerala Kasava, no matter which handloom you desire, you'll find it here, and that too in whatever budget you may have.
Price: Starting at INR 1,500
Ayush Kejriwal
Have you heard of statement saris? Neither have we, but we now feel like they can be a thing. Get one of these saris if you're okay with a lot of attention coming your way, because they are absolutely STUNNING! His design aesthetics are timeless yet very unique at the same time.
We absolutely love his colour block saree with a Taj Mahal Banarasi blouse, Kalamkari sarees, and Patan Patola sarees. Although a tad expensive, his design sensibility makes it totally worth it.
Price: Starting at INR 17,000
Summer By Priyanka Gupta
Did someone say you can't wear pastel shades in winters? You'll scoff at this suggestion when you lay your eyes on these saris by Priyanka Gupta. Pastel and summery, these belong to an Indian fairy-tale.
The colour palette they use is seriously yummy and the details whimsical. Plus, each sari comes with its own blouse, which ties it all wonderfully together.
Price: Starting at INR 25,000

Manjha
This brand does handmade saris inspired from various textile cultures from all over India. From khadi and Banarasi silk to the block prints from Rajasthan, they have it all under one roof.

Price: Starting at INR 3,600

Jaypore
It is a brand that is slowly gaining recognition for its fresh designs at great prices. Whether it is a wedding or a conference, their designs can be worn at all kinds of events. They do western clothing as well.
Pro tip: Check out their blouses which can be paired with skirts and palazzos as crop tops, too.
Price: Starting at INR 1,700.

Etash Magic Saree
Etash is changing the way how you wear a sari. Their products are available in two styles - wrap arounds and skirt style, so that it takes minutes to drape the sari without any hassle. Check out their ruffle sari for a quirky look.

Price: Starting at INR 1700
The Loom
The Loom is a brand that understands the needs of an office goer today. It combines fresh designs with traditional clothing. They do beautiful tie and dye saris and hand block printed saris. They have a stunning collection of dressy saris too for weddings.
Price: Starting at INR 1000

Khara Kapas
Being true to its name meaning 'Pure Cotton', this brand sells saris made of pure fabrics. They also have leather bags that are produced from the leather of animals that have died from natural causes.
Price: Starting at INR 4300

Moya
If you are looking for a more Bohemian look for your Sari, this is the brand for you. Check out their Laal or Blue Paad Sari which is a fresh take on the traditional Bengali Lal Paad.
Price: Starting at INR 3300

Comments