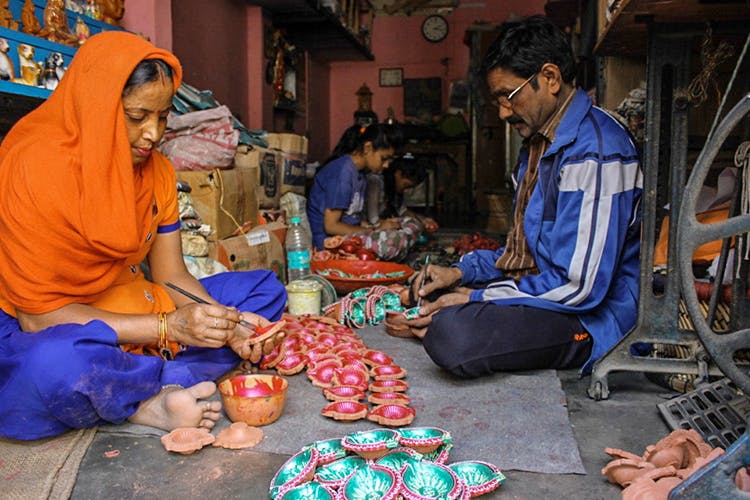 #LBBPhotoStory: This Potter's Village Will Take You Back To Where It All Began
Kumhar Gram is an oasis of peace in the midst of the Capital's hustle and bustle. Located in Uttam Nagar, West Delhi, this is also where around 800 families have been practicing and excelling in the art of pottery since the time of their ancestors.
We took a stroll down what is known as the largest settlement of potters in the world, and brought back these scenes.
The village came into existence when potters from Alwar, Rajasthan settled in this corner of the city, and brought along their unique art of pottery.
Women play a vital role in pottery, whether it is the first step of making clay or selling the finished goods in shops. Here, one of the ladies is seen crushing the clay that is further sieved.
Owing to environmental and pollution norms, the area's potters have different working hours. The kilns are operated at night to bake pots, which leaves many of them exhausted during the daytime.
Pots that are baked overnight are also dried in the sun to lend them strength and a definite shape.
Most homes in Kumhar Gram also have a shop selling finished products on the outside.
Families here rely on old techniques to manually craft clay products, such as using the rudimentary potter's wheel, till date.
Surplus goods are produced during winters and stored in the houses waiting to be sold during summer, which is usually peak season for clay drinking water pots.
A worker arranges pots manufactured after a day's work. On an average, 80-100 clay products are prepared daily in batches.
Priyanka, Ritu, Pinky and Anju are sisters in a family of potters. They study in a government school nearby, while assisting their single father in the family business.
Mrs. Sumitra Devi has been making and selling pottery goods for over 20 years. Among her two sons, the younger one helps out with the daily business, while the elder son focuses on exporting these handcrafted pieces to Nepal, Myanmar and Thailand among other Asian countries.
More Information
Potter's Village
Nearest Metro Station: UTTAM NAGAR EAST
Comments