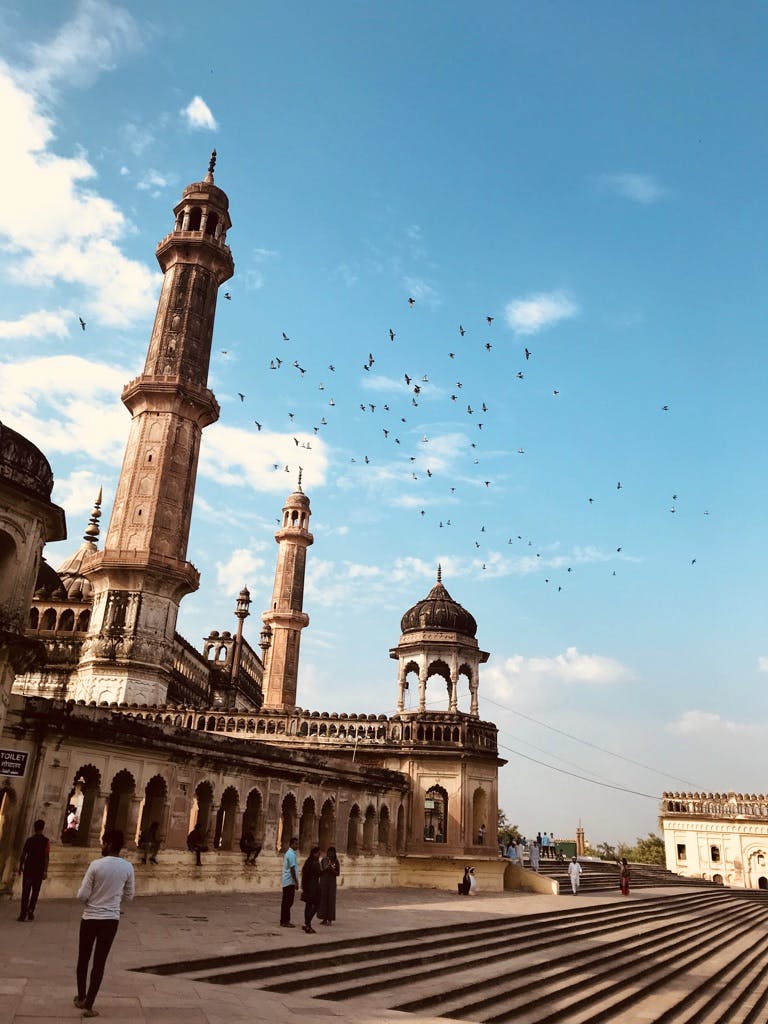 Of Kebabs, Chikankari & More: Spend An Epic Day In Lucknow With Our Guide
Lucknow has been a prominent city for art, food, textiles and literature. Even today it is called as the City of Nawabs and maintains the Nawab style culture from the 18th and 19th century. Spend a day in Lucknow and get a feel of the Nawab culture for yourself, and check out our guide to know the best way possible to do the same.
The Residency
This used to be the residence of the British General who was a resident in the court of the Nawab of Awadh. During 1857, it came down under the siege of Lucknow. Today, the area has ruined buildings but maintained gardens, a museum and a huge cemetery for all the Britishers who were killed during the siege.
Rumi Darwaza
The gate is named after the 13th century poet named Rumi. The gate was ordered to be built by Nawab Asaf-Ud-Daula in order to provide employment to local workers when a famine hit Lucknow rendering hundreds of people homeless and jobless. Today, it stands as an ode to the city's past.
Bara Imambara
Imambara is a congregational building used by Shia's during Muharram. The Bara Imambara in Lucknow is also a labyrinth which also has a baoli or stepwell, a mosque for praying, and the tomb of Asaf -Ud-Daula.
Chota Imambara
Often dwarfed in importance by the Bara Imambara, this place does not have as many visitors. This place houses the royal bath or hammam of the king and also has the tomb of Nawab Muhammad Ali Shah and his family members
Safed Baradari
It was built by Nawab Wajid Ali Shah as a palace of mourning. Later it was used by the Britishers as court. Ironically, today the place is used to host marriage ceremonies and other forms of celebrations.
Tomb of Saadat Ali Khan II
Saadat Ali Khan II was the fifth nawab of Awadh. His wife Khursheed Zadi was buried near her husband in the same area. It is a beautiful building and is a heaven for photography and history lovers.
Begum Hazrat Mahal Park
This park was built in honour and memory of Begum Hazrat Mahal for her contributions in the revolt of 1857. After Nawab Wajib Ali Shah was exiled out of Awadh, begum Hazrat Mahal took charge of the affairs of the state and rebelled against the Britishers.
Ambedkar Memorial Park
This park was constructed by the former Chief Minister of Uttar Pradesh - Mayawati. The park is a tribute to leaders such as Dr. BR Ambedkar, Jyotirao Phule, Shahuji Maharaj, Birsa Munda and more, all those who dedicated their lives towards social justice and equality.
Janpath Market
It is located in the bustling area of Hazratganj and is a market where you will get Lucknow's famous chikankari embroidery work, perfumes, and ittars at a very reasonable rate. If your bargaining skills are good, you can buy these items for even less.
Aminabad
Aminabad market has been a famous market for clothing ever since the time of the Nawabs. Some structures and buildings from that era still exist and are in use even today. It is also home to some of the oldest eating places in town.
Chowk
Chowk in Lucknow is also a market area that has been there since the rule of the Nawabs. You'll find traditional products here with chikankari embroidery in suits, kurtas, cushions etc. This place also has various stalls for the famous Lucknow kebabs. The lanes are pretty narrow so be careful when here.
Nakhas
This market is famous for its wood work and junk jewellery. It has a bird market inside and a huge vegetable market too.
Yahiyaganj
It is a wholesale market where you will find cosmetics, utensils, plastic utility goods, and other kitchen related items. It is a place for all your daily household requirements and needs.
Kapoorthala
Kapoorthala is a market where you will get different fabrics and clothes. For heavier wedding wear and festive wear outfit, Kapoorthala is the market you should head to as you will get designer saris, readymade garments, chikan embroidery work and much more.
Royal Cafe
Royal Cafe is a must visit place if you are in the mood for some chaat and amazing ambience. This place won't also burn a hole in your pocket, so you can take your whole squad here for a treat. While they have four outlets in the city, the Hazratganj outlet is the best out of the four.
Moti Mahal
Moti Mahal does finger licking delicious North Indian and Mughlai food. If you still have space in your tummy after having the main course, try their range of Indian sweets from the sweet shop. You are bound to go to food heaven.
Tunday Kababi
It is said that you have not truly experienced Lucknow if you did not make a stop at Tunday Kababi. In order to not disappoint vegetarians, they have also introduced vegetarian items on their menu. So, if you do plan to go to Lucknow, make sure that you take out time to come here.
Bar Bar
Head to Bar Bar to unwind and get a couple of drinks with your squad. They even have offer hookah/sheesha options. Since the bar is located inside a hotel premises, it is not very difficult to locate and parking is also not a problem.
Sharma Ji Ki Chai
If you are a tea lover then make your way to this small joint to get a cup of hot tea that is nothing short of epic. They also serve tea in kulhar glasses, giving one traditional vibes. Their bun maska is something Lucknow people absolutely love.
Dastarkhwan
This is not a fancy restaurant or cafe but are a classic eatery for amazing Mughlai food and holds a special place in the hearts of Lucknow locals. If you are a non-vegetarian, they do a brilliant job with their chicken and mutton biryani (sorry, vegetarians folks).
Urban Terrace
Planning a date with bae on a good weather day? Dine at the rooftop of Urban Terrace and enjoy the ambience, the view and the food. They also have a separate smoking area.
Vintage Machine
Tired of places serving north indian and mughlai food? Go to Vintage Machine as they have American, Italian and Lebanese cuisines on their menu. As their name suggests, their aesthetic is vintage as well.
Sepia
Sepia is a fine dine restaurant that has brought back the charm of the Lucknow of Nawabs with their interiors and their Awadhi style menu. They also have live music which makes the whole dining experience a lot better.
Oudhyana - Taj Mahal
We have saved the best for the last. If you want to dine like the royals once used to, head to Oyudhyana which is a luxury fine dine restaurant where you can score amazing North Indian and Awadhi meals. Their ambience also feels as if you are dining inside a palace.
Comments