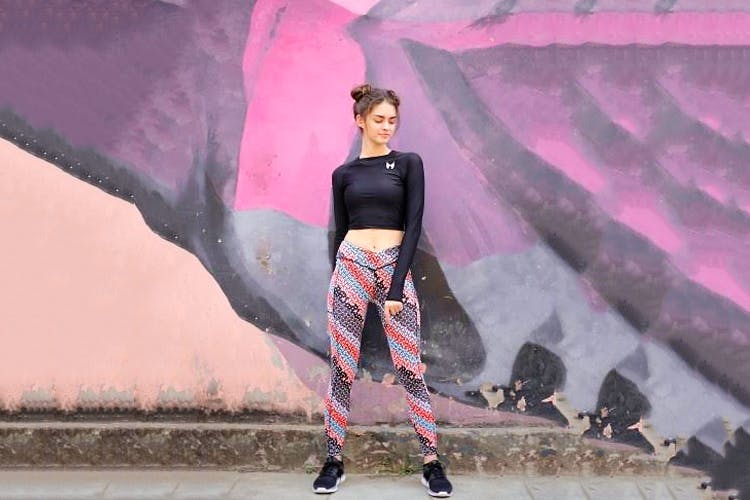 Fierce. Feminine. Fashionable: This Activewear Brand Will Give Wings To Your #FitnessGoals
Shortcut
Ditch the war between fashion and comfort, because we just found a solution. Ladies, get ready to be the best version of yourself with Skyria Activewear. Here's our pick for getting the best blend of function and fashion with this brand. They've got you covered for all kinds of workouts from a quick run, a yoga session, gymming to point out a few.
Gym In Full Swing
Get your A-game on and be ready to squat and spin in full swing at the gym. Sweat it out in Skyria's Faith Long Sleeves Crop & Athena Mesh Leggings and more, that have innovative moisture-wicking fabric that ensures versatility in movement, training, and style!
Getting My Yoga On
Feel light as a feather while you flow from Balasana to Hanumanasana. The brand has kept your flexibility in mind and has created styles that promise an ultimate fit and feel. From Kea Crop Top & Mia Leggings to Amp Tee and Angled Waist Leggings, slip into Skyria's comfortable yoga specials as you work towards strengthening your core.
Sprint To Your Fitness Goals
Feel the cooling effect while you run the long stretches so that you don't have to give early morning runs a second thought. Add Skyria's comfortable outfits to your wardrobes to pair your intense workouts with sweat-free substance and style. We would suggest you go for the morning sprint in Mia Sports Bra & Athena Mesh Leggings in the springs. Alternate that with Long Sleeve Pullover or Faith Long Sleeve Crop and Angled Waist Leggings in summers to save yourself from tanning.
From Barre To Brunch
Take your best form to the workouts and slip out directly from the gym to the street, barre to brunch or mat to martinis with Skyria's chic range of athleisure wear. Slay at brunch with Kea Crop Top & Mia Leggings for the right fusion of performance with style. Trust us, it's going to become your go-to look for your fit-life before you know it!
How To Train Your Muscles
Slay your daily workouts and train for a fit body while you move effortlessly with the Naomi Mesh Sports Bra & Smock It To Me Leggings. Not only will they make you look fab but also help you workout in breathable, moisture-wicking fabrics and stay cool throughout!
So, We're Saying…
We are giving you all the reason to be fierce, feminine, and fashionable at all points in the day. Amp up your style when you comfortably workout in Skyria's lightweight fabric. Hit the 'Buy Now' button to visit their website and shop the awesome collection. Make smart fitness choices without burning a hole in your pocket in just a click.
Ask Shinam a question