Get Geared Up: 10 Places To Score Adventure & Sports Equipment From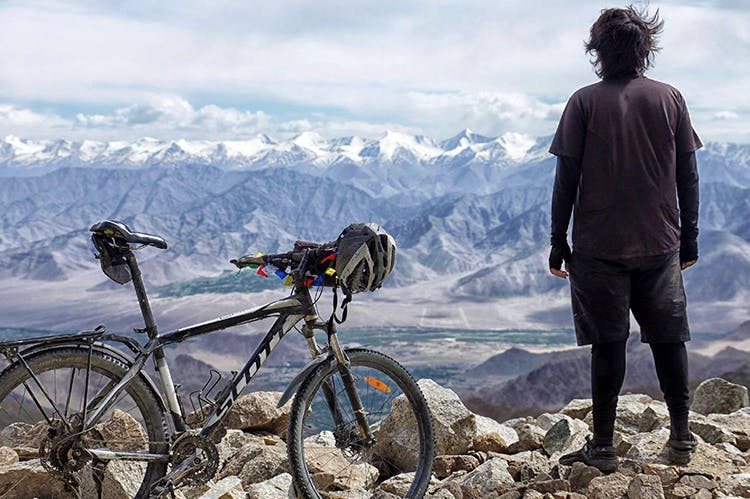 Climb every mountain and wade through every sea; we're just making sure that you're well-equipped to handle your wanderlust.

Outdoor Travel Gear
An online store that also has branches in Bombay, Thane and Goa, they have climbing, camping, cycling equipment as well as motor-biking gear, knives and travel tools. They have quite a number of deals going on usually, so keep checking from time to time.
Columbia Sportswear
They have a bunch of high-quality climbing and backpacking equipment, though it's slightly on the steeper side. While we'd pick any of the stores on this list for equipment, Columbia is great for sportswear and all other kinds of bright, waterproof clothes.
They do pants, jackets, shoes, rainwear, windbreakers, T-shirts, hoodies, mittens, sweatshirts and more.
Adventure 18
We love that they cater to all budgets. They stock military and tactical equipment as well as water sports, snow sports and riding gear. If you're looking for some fun, bright hiking pants and other clothing, Adventure 18 will get you some of those too.
Adventure Point
Get geared up for your adventure at this store, which stocks everything from mini-lanterns, snow goggles and pop-up tents to canvas hammocks, backpacks, snorkelling equipment and watches. If you're in severe need of a sleeping bag or a kayak, Adventure Point is the place to go.
Decathlon
If we had one word to describe this French brand, we'd pick 'budget', or 'sprawling', or 'extensive'. But honestly, we fall in love a little bit more every time we visit this expansive store full of adventure equipment. Source your swimming, running, fitness, football, golf, horse riding and every other sporty need here.
Wildcraft
Equipping travellers and adventure seekers with the right kind of kits, Wildcraft is a good pick for backpacks and jackets. We go to them because their products are sturdy and last a lifetime.
They have apparel made of breathable material, ergonomically-designed rucksacks and waterproof footwear, making exploration much easier for those interested.
Zanskar Outdoor Equipment
Caps, hats, saddlery, tents, life jackets and other camping stuff is all available here. They keep nylon, luxury, Swiss cottage and hanging tents, as well as a bunch of other kinds of outdoor sturdy equipment.
Carabin Adventure
Alpine, dome, Swiss cottage and kiosk tents notwithstanding, Carabin Adventure also has ropes, slings, storm clothing and high-altitude sleeping bags. If you're looking for a one-stop shop for camping, this is the number to call.
Indian Mountaineering Foundation
India's apex mountaineering body, IMF, also offers equipment on rent for professional climbers and trekkers, though they might charge a deposit fee equal to the price of the product.