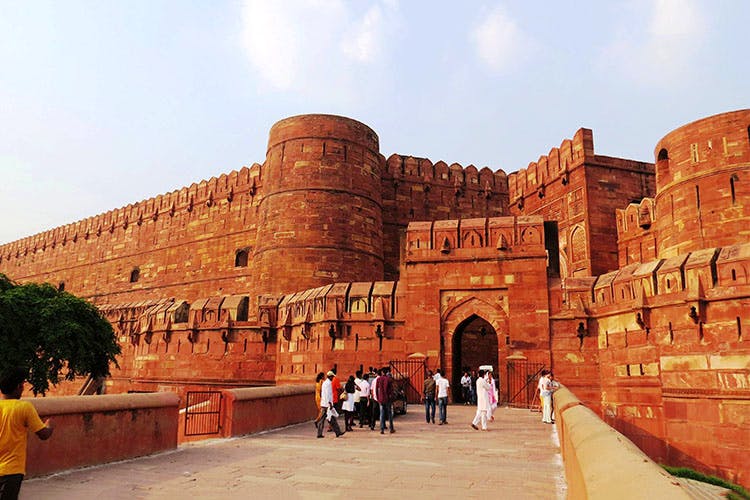 Make A Trip To Agra For This Monument That's NOT The Taj Mahal
Shortcut
Your road trips to Agra don't have to end at the Taj Mahal. Just 20 minutes away from the iconic monument is an equally grand Agra Fort. Here's why this UNESCO World Heritage Site is a must-visit.
Splendour Personified
Since the place is made of red sandstone, it's also called the Red Fort of Agra. The place is best enjoyed if you hire a good guide who can tell you the story of how it came to be. The amount of history (and wars) this place has seen, and the meticulous detail and effort that has gone into creating it is astounding (we're not surprised, just look at the place). We say it's worth paying the little extra to take your cameras inside. There are manicured gardens, intricately carved walls and architectural beauty in each section of the fort. This place has the perfect vantage point for a stunning view of the Taj Mahal and the Yamuna river right next to it (We couldn't stop thinking of seeing the same in many Bollywood movies).
Go prepared in a pair of comfy shoes and a water bottle, because you'll be walking a lot. We suggest making a trip between the months of October to March, when the weather is ideal for sightseeing.
So, We're Saying...
With exquisite architecture and a breathtaking view, we say make this one the final stop to your Agra sightseeing (after checking out the Taj Mahal, duh).
#LBBTip
In case it gets late and you need a place to crash, here's a list of cool homestays and budget hostels that'll have your back.
Comments