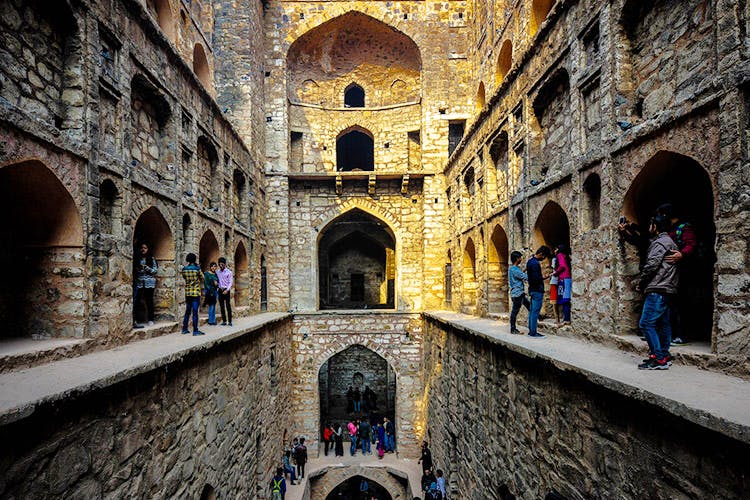 Steal A Moment Of Peace Amidst The City's Chaos At Agrasen Ki Baoli
Shortcut
Tucked away at a hidden spot in the middle of Central Delhi's concrete jungle is Agrasen Ki Baoli. It might be slightly hard to find, but once you enter the gate of the monument, you would have left behind the chaos of Delhi miles away.
Where History Meets Peace
Agrasen Ki Baoli suddenly started seeing a lot of visitors after Aamir Khan's film PK was shot there. All the peeps who had been unable to notice the monument nestled among the high-rise buildings of Connaught Place came to visit it. Divided into four levels with an elaborate flight of 108 stairs, the baoli is essentially a step-well that leads you down to what would have been the water source. Given the fact that Delhi's famous summers are quite cruel, we wouldn't be surprised to discover that this baoli was the chilling spot for all the people that lived in ancient Delhi.
Surrounded by walls on both the sides of the stairs, the symmetry of the monument makes it perfect for an Instagram post. While it doesn't offer any particular activities as such, go to Agrasen Ki Baoli to indulge in some idleness. Take a book or your headphones or your diary or a friend for great conversation away from the hustle and bustle of Delhi. Sit at one of the stairs, and take in the quiet that is rarely found in a city like Delhi. Since it opens at 7 am, we say you go for an early morning visit to enjoy total solitude but make sure you visit it before 6 pm before it shuts down. The entry is free, and it's lovely knowing that it costs nothing to find some peace away from the chaos.
So, We're Saying...
You don't always need a getaway to escape the chaos, especially when you have a spot like Agrasen Ki Baoli that helps you find peace right in the middle of the city.
Comments