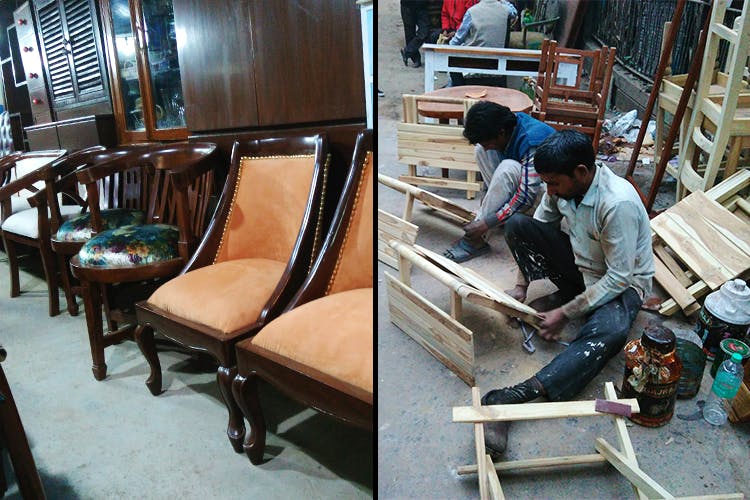 Furniture Too Expensive Online? These Amar Colony Shops Will Recreate Any Design For Less!
Whether you're moving in to a new place, refurbishing your home or just have an uncontrollable need to hoard pretty furniture, these five shops in furniture market, Amar Colony will fulfil all your furniture needs at the best prices.
Corner Furniture Shop
As their name very conveniently suggests, you'll find this shop on the corner of the Amar Colony furniture market. They'll make any kind of furniture that you need for your house for a fraction of the cost. New sofa, bed, or cupboard—they do all things wooden and wonderful.
Krishna Furniture
Their whole space was filled with couches, desks, tabletops and more. They deal in all kinds of new and old furniture (and repair, too). You can hit them up if you've got a particular design in mind, and they'll deliver pretty much that exact thing to you.
P.S. The shop is currently closed but they still are in business, so just call them up once and put your ideas to the table.
Mohamad Sofa Repair
Don't get sidetracked by the name—repairing isn't the only thing they've mastered. All of your furniture needs—be it a sofa, new upholstery, polishes, dry cleaning for your furniture—are in extremely capable hands here.
Anand's Collections
A little walk (and a sharp right) at this furniture-ridden market will land you at Anand's Collections. The long form shop is ridden with ready-made furniture pieces which you can take home, or perhaps take inspiration from and make up your own design. They do all things new and custom, so let your home makeover be in their hands.
Comments