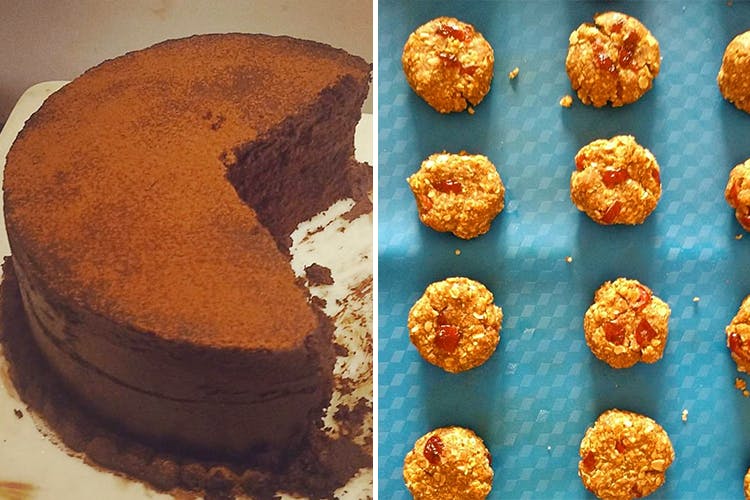 Nearest Metro Station:

KAILASH COLONY
Get Drunk On ASAP's Sangria Jelly, Old Monk Cake & Margarita Cupcakes!
Shortcut
Gaurri Gupta's new baking venture, As Simple As Pie (ASAP), is making us give diet plans a cold shoulder, for how can you say no to a little something that's sweet enough to combine our two forever loves: alcohol and cake?
Great For
Whiskey Sour Cake, oatmeal cookies, granola, Sangria jelly.

What Makes Them Awesome
For Gaurri, an interior-designer-turned-home-baker, baking is sheer passion. She has no formal training, but is an out-and-out flour child… Give her a slice of chocolate cake, and you'll have her heart forever. And, just like all of us, she struggles with her ever-increasing weight thanks to this all-consuming love affair.
At some point, she decided to take matters into her own dough-loving hands and the 'nice' collection of her baked goodies came around. These include everything vegan, diabetes-friendly, sugarless breads and gluten-free cupcakes. On the other end of the spectrum are her 'naughty' desserts that are everything boozy, sweet and unabashedly indulgent. Remember we mentioned her Old Fashioned Cake, Gin & Tonic Tea Cake and Orange Whiskey & Caramel Cake? These are a part of the 'naughty' menu.
If you're an Instagram nut, get her incredibly cute, cocktail cupcakes. If you're a dumbbell bee (#squatsoversugar, bro), get yourself a gluten-free dark chocolate cake. In fact, 90% of her naughty desserts can be rendered in a nice format with healthy substitutes. Sweet, right?
Love dipping cookies in hot milk? You can get her oatmeal chocolate, oatmeal chocochip, oatmeal cranberry and granola (chocolate cinnamon, Mocha chocochip or coconut, melon seeds and dates). Gauri's pack of two jars of granola, cake (they have options for vegan, eggless cakes too), a jar of oatmeal cookies (pick from chocochip or cranberry) and two packs of artisanal tea or coffee make for a great little gift hamper for friends and fam with a munching problem.
Pro-Tip
She tells us that her oven is also working on breads and you'll see pumpkin bread and whole wheat versions soon enough.
She's keen on taking orders for completely customised desserts too. She can recreate your bestie's favourite cocktail in a cake format and we can't tell you how kicked we are about having an LIIT tart, because, hey, why the hell not? Whatever your order, she needs 6-8 hours to make it happen. If you're really specific or want a bread basket, she might need a day to deliver as well.
Comments
Nearest Metro Station:

KAILASH COLONY