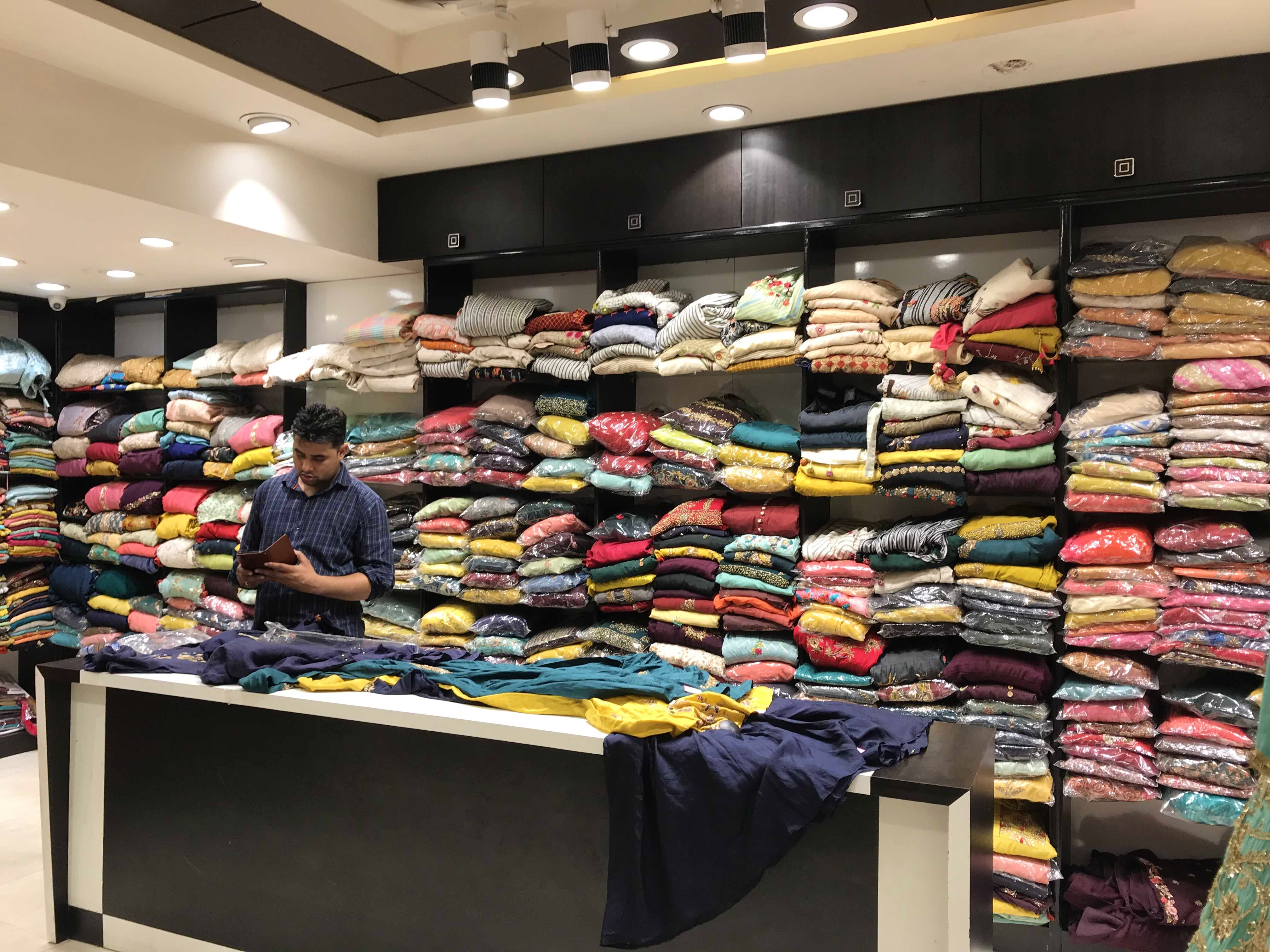 This North Delhi Market For Cool Fabrics & Decor Is A Shopper's Paradise
Another local market we all need to know about (okay, it's me, only I needed to know about it), is the Ashok Vihar Central Market ( also known as the Deep Market). Full of boutiques, fabric shops, and large bed linen stores, this market is convenient to shop at since you can find pretty much everything here (except for western casuals).
Read on to know more about it.
Meenakshi
Meenakshi is a multi-storey fabric shop that has everything from basic cotton fabrics in different colours to fancier fabrics like chikankari in every design possible.
Price: Starting at INR 450
Novelty Tailors & Drapers
Novelty Tailors is a shop that sells fabrics for menswear and then tailors them to fit. You can find all kinds of fabrics for shirts, blazers, and trousers here.
Price: INR 1,500 and above (nehru jackets)
Suneha Creation
At Suneha Creation you can get a lot of traditional festive necessities, like Gods/Goddesses' clay murtis, and other pooja-related items. Other than this you can get bangles, gifting boxes, and hand bags here as well.
PS: We really do recommend you go here for the bags, you can find a lot of chic chain strap slings and bigger handbags that are great for everyday situations.
Price: INR 300 and above
Bhatia Collections
Bhatia Collections stocks their own designs as well as sourced ones. Although they have party wear, we recommend you go here for the cool basic kurtas they have.
Price: INR 500 and above
Climax Men's World
Ironically, the Climax store is for women's wear. The name may have you thinking otherwise (it definitely had me thinking otherwise). They sell clothes from brands like Madame, Gypsy, Goddess, and W for Women. You can find anything from a pair of jeans and dresses to scarves here.
Price: INR 1,000 and above
Samaira Collections
Samaira is one of the most well-known boutiques in the market. It is primarily a shop that retails in fabric and bottom wear. You can find a lot of heavy fabrics, as well as palazzos here.
Price: INR 600 and above
Climax Exclusive
Climax exclusive is a multi-brand menswear store. They have everything from t-shirts, jeans, and shirts for men from brands like Levi's, Indian Terrain, UCB, and U.S Polo Association.
Price: starting from INR 1,200 above
iDress
iDress has a lot of beautiful cotton, dressy kurtas. Generally, you see occasion-based ethnic wear crafted from very shiny material or with heavy embroidery, but this shop had party wear kurtas made of cotton, which was refreshing to see. They also have vibrant, embroidered kurtas, for those of us who like some sparkle.
Price: starting at INR 500
Azura
Azura has a nice collection of kurta-sharara suit sets and hand-embroidered western wear. They also do in-house, hand-block printing and embroidery on their pieces. We saw a pretty, pink kurta-sharara suit set that was hand-block printed by them and a an equally pretty white dress which was hand-embroidered by in-house karigars.
Price: Starting at INR 2,000
Panipat Handloom
Panipat Handloom is your average go-to household items and bed linen shop. You can find bedding accessories from brands like D'Decor, La Casa, Portico, and Maspar here. Apart from all this, you can find cool wall clocks, copper mugs, and showpieces at their shop.
Price: INR 1,500 above
Rang Rachna
This store sells semi-stitched suit set pieces in fabrics like chanderi, silk, cotton, and linen. Apart from this, they also sell un-stitched fabrics and dupattas in bandhej, leheriya, and machine-work phulkari.
Price: Starting at INR 1,200
Lakshmi Selection
Lakshmi Selection is good for people who are scouting for good kurtas and party wear ethnic garments. You can find everyday, cotton kurtas here as well as embellished kurtas and palazzo sets.
Price: Starting at INR 5,000 above
Pooja Fashion Centre
Pooja Fashion Centre is a jewellery shop that sells jhumkas, bangles, and full jewellery sets with necklaces as well. We recommend going here for the jhumkas though, they have a lot of options for people who want matching ones for their outfits.
Price: Starting at INR 300
Comments