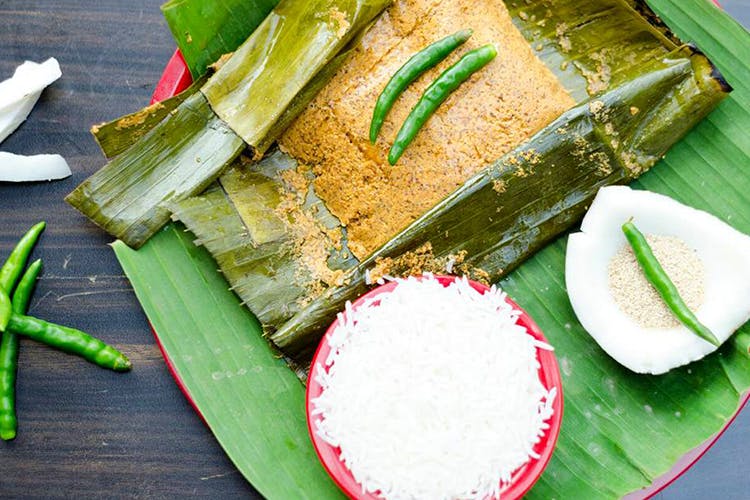 Authentic, Budget-Friendly & Yummy, The Food At This Bengali Restaurant Is A Must-Try
Shortcut
Abar Khabo, located in DLF Phase-1 dishes out home-style Bengali food that is fairly authentic, customizable and very easy on the pocket.
Home Is Where The Heart Is
Simple, comfort food is the USP of this place, and the flavours seem just right for a homely yet very hearty meal. While there is range of rolls, chops and cutlets that would pair perfectly with an evening of drinks, we focussed on the mains and got more hits than misses. The Egg Tadka Dal is an intriguing offering, and pairs tempered dal with egg for pure creamy delight. The Mutton Curry with Alu is spiced just right, and works well with steamed rice.
We also love a lot of the vegetarian mains. The Potol Dorma is crisp and stuffed delicately and the Dhokar Dalna is also cooked to perfection. Don't miss to order a range of bhajas for that delightful crunch in your meal. Choose from Begun, Alu, Bhindi or even Korola!
What Could Be Better?
Given the fact that is a small place, service can be a bit slow for delivery, so be patient! Also, they could be out of specific items so have a back-up in your order ready.
Finally, there isn't any dessert available. What is Bengali food without the sweet closure of Misthi?
So, We're Saying...
Since a meal for two won't set you back by more than INR 600, Abar Khabo is perfect for end-of-the-month dinners at home.
#LBBTip
The menu is elaborate but may not have some of your favourites but ask for off-the-menu specials; the staff can improvise and conjure up specific treats.
Also, you can get half portions of most dishes. Their portions are ample and that gives you the chance to try out a larger range.
More Information
Abar Khabo
Nearest Metro Station: SIKANDARPUR
Comments