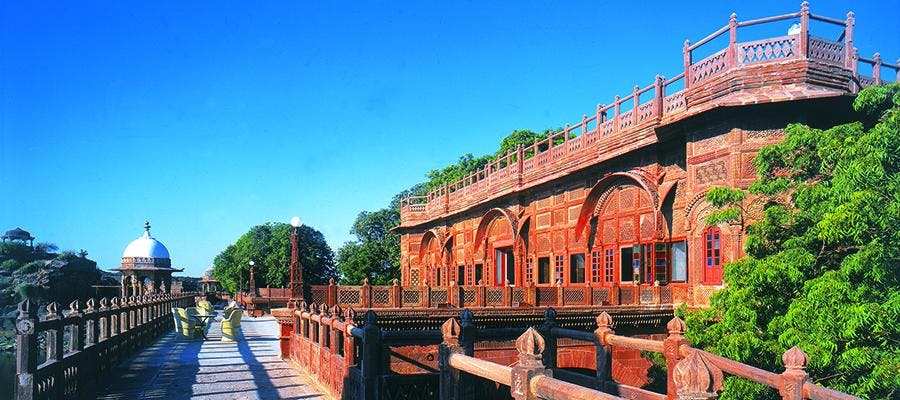 Vacation Goals: Get The Best Of Luxury & Old World Charm At This Heritage Hotel
What Makes It Awesome
The Bal Samand Lake, situated only five kilometres away from Jodhpur city in Rajasthan, is one of the most beautiful and peaceful spots the city has to offer. The 15 kilometer wide, man-made reservoir is especially a treat for bird watching enthusiasts as the gardens around the lake are frequented by a variety of bird species.
While the general public is free to lounge in the areas overlooking the lake, access to the gardens and the banks of the lake is only open to the guests of the Bal Samand Lake Palace, a heritage hotel built in the vicinity of the lake.
The Bal Samand Lake Palace is a heritage property, merely 5 kilometers away from the city centre and main markets of Jodhpur. Although, a bit secluded, the property has many experiences to offer and is at a convenient distance from the main city (perfect for those who would like to go shopping). The guests of the hotel are welcome to lounge around the lake and walk through the gardens anytime they may please. The hotel is famous for it's excellent service, scenic beauty, and (goes without saying, but) their lavish buffet spreads.
We think that if you want to be in the laps of both nature and luxury, this is just the destination for you.
What Could Be Better
Since the lake is a reservoir that was built to help with the water supply in the area, it's secluded and protected with lush gardens that surround it. Which is why, there is only one room in (i.e. The Maharani Suite) that overlooks the lake. If you're hoping for a lake view from your room, you might want to check the availability of the suite.
More Information
WelcomHeritage - Bal Samand Lake Palace
Comments