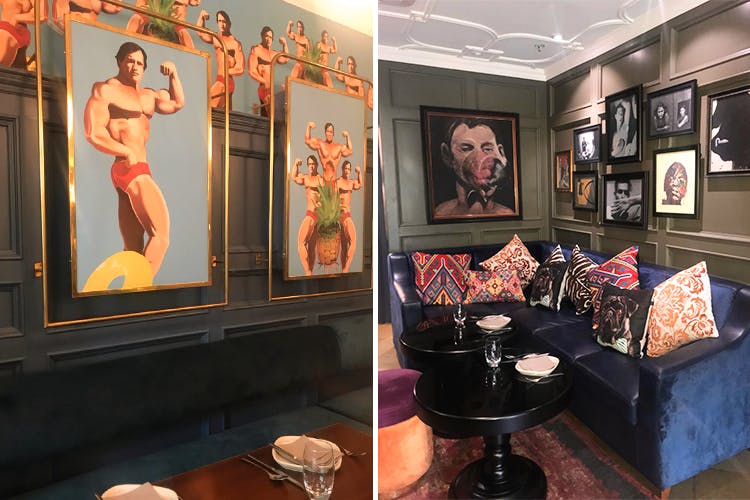 Nearest Metro Station:

KHAN MARKET
Bangalore's Sly Granny Is Now In Delhi & We Got You The First Look
Shortcut
Bangalore's hipster favourite Sly Granny—The Community House—has made its way to Delhi's Khan Market. It's got a lovely, cosy vibe, well-mixed cocktails, and innovative (but comforting) European food.
Great For
Atypical cocktails, steak, starters
What Makes It Awesome
That it both fits into the Khan vibe, but has a Bangalore homey-ness to it. Also, it helps the food was interesting and not over-ambitious, and that the cocktails we tried were well thought-out and well-mixed. For anyone who likes a story behind their dinner setting, this little restaurant has the legend of a lovely little grandma (she doesn't sound very sly, though), who had a secret collection of stunning artwork, black and white photos—and a collection of special recipes to match. When this legendary grandma's son came home to India to move her back with him to the US, he discovered her little store of secrets, he realised the recipes and art both needed a home. And the rest, as they say, is history...
We recommend you start with one of their cocktails—most places don't get the mixing right, but full marks to the Sly guys for this one. The Linda Evagelista and the Namedropper stood out most, both vodka and whiskey-based respectively. Starters to try that are high up on our list—the Bacon Mac N Cheese Croquettes, The Barcelona Shrimp, and the Liver Pâté (served with toast rounds)—this is so good, and not a lot of places we've been to serve pâté.
We had the Grilled Steak and Black Pepper Salmon for mains, and the salmon was lovely (but the pepper can choke you a little if you take bigger bites than most). The steak, in our opinion, was a winner because few places can get buff tasting this flavourful and tender. Definitely order starters, though—we wouldn't have been full on the steak alone (but we're also eternally hungry folk, mind).
Since there's always room for dessert, you can play it safe with their apple pie (which is unique and deliciously shortcrust-y), or try their Brie En Croute, which tastes kind of like a fresh cheese pastry dowsed in honey, and it's unreal. On a side note, they were playing some great music. We Shazam-ed every second song.
What Could Be Better
It's a little hard to find, but we're told more signage is on its way. For right now, just remember it's opposite Perch.
Pro Tip
Order well—the food is lovely, but the portions are more fine-dining than casual.
Comments
Nearest Metro Station:

KHAN MARKET