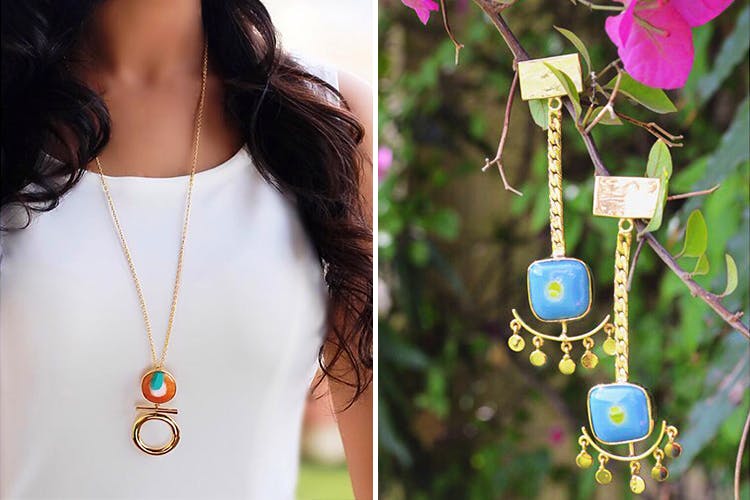 Try Ikroop's Vibrant Glass Jewellery For The Wedding Season
Shortcut
Ikroop takes glass work to a whole new level with baubles for your ears, fingers and neck, all made with experimental fused glass.
What Makes Them Awesome
They have us swooning over each individual piece, all of which are just the right kind of wearable art. With vibrant blues, pinks, reds, oranges and greens in their gold plated encasings, what you finally possess is a gorgeous, very flaunt-able trinket. Started by Ikroop Dhillon and Pooja Roy Yadav, this brand is a testament to the art of fused glass art and jewellery design.
If you want a statement earring that has been conceived over a fire kiln and is inspired by art deco and structural shapes, then this is your spot. The necklaces remind us of Egyptian amulets and of wired hieroglyphics, albeit in gold. From small, colourful studs to minimalist structured danglers, we're completely spoilt for choice, and we're sure you will be, too. They've recently started doing glass wall decor, little colourful pieces that look so cute.
What Could Be Better
A little on the higher end, but stunning nonetheless, Ikroop brings some creativity back to jewellery design.
Comments