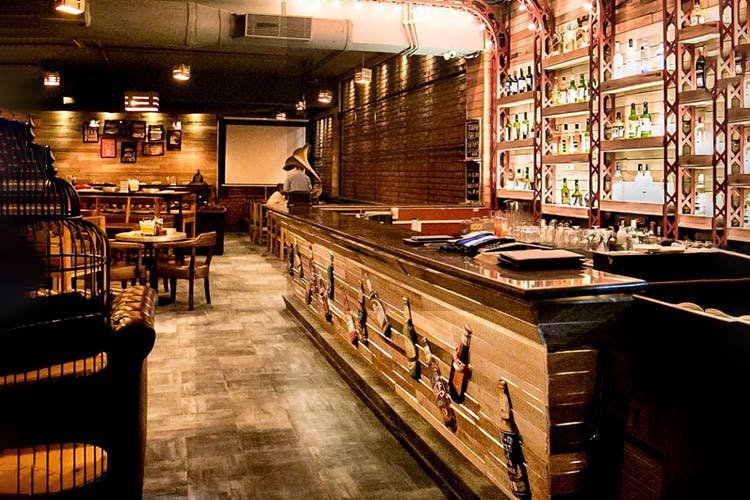 Noida Peeps, We Found You 9 Bars Just As Good As Delhi's
Whether you're alone, on a date or at a party, it only takes a few drinks to loosen up and raise the bar of the night. This list of bars and pubs in Noida is here to help you do just that.
Cheenos
Located close to the Sector 18 metro station, they have cute wall decor (that ends up being a little hidden by the dim lighting). We'd suggest going here for catching up with your buddies over a round of drinks. (A pint of beer here is for INR 200). Gorge on their chicken lollipops and cheesy fries.
The Irish House
Inside the DLF Mall of India, you'll find this gigantic pub with a vast bar menu and a laid-back ambience. If you're one of those people that OD on pizzas and burgers, they have a DIY option for you.
Skyhouse
If you're on the lookout for a go-to bar to relax post work, Skyhouse has just the ambience for it. Think alfresco tables, live bands and a gorgeous, open terrace section with plenty of space to sit. Go for their chicken malai tikka and pizzas.
Barrack 62 The Gastro Pub
Given that drinks are available here without burning a hole in one's pocket, this place is a popular haunt for the under-35 crowd. This place is a little tight on space (which actually makes way for better conversations, since the music isn't too loud either).
Imperfecto
Neighbour to The Smoke Factory, it has the perfect setting to let your hair down with quirky decor (think bikes and scooters casually 'hanging' off the ceiling or stairs) and warm, yellow lights.
The Smoke Factory
Head to the Smoke Factory if you're after good music and a place to let loose. We also approve of their food and drinks menu, so feel free to experiment with what you order. We also hear the music here is awesome and the staff is pretty friendly.
Wing-Ding
Need a place for a late night date? This place has a good selection of music, an option of balcony seating and yum Italian cuisine. They also have a live sports screen for you to sit back, relax and enjoy.
Black Bottle + Kitchen
Being more of a lounge than a party place, this place has rustic walls, dim lights and soft music playing in the background which add to the cosy ambience. Their cigar rolls and chicken biryani are to die for.
Comments