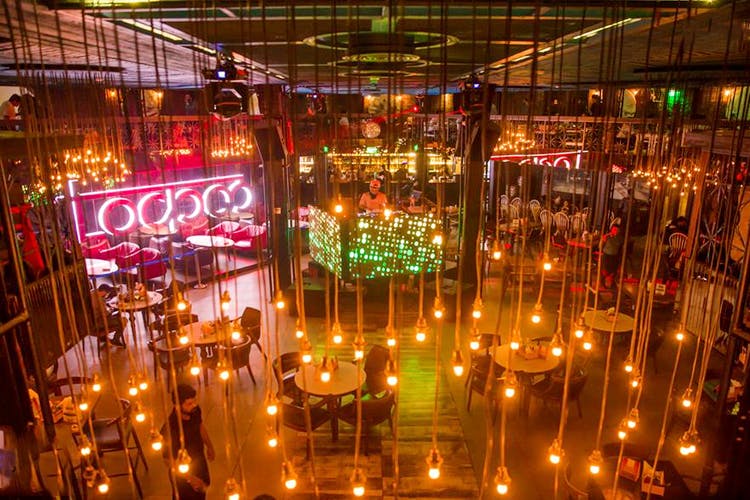 Drinking Plans In CP? Here Are 10 Of The Best Bars & Pubs To Hit Up
There's a certain association CP has with drinking that's just unshakeable—and the steady rise of bars and pubs to an almost overwhelming degree has only made that association stronger than ever. But choosing amongst the riot of new spots can be a tough one; which is why we curated a little list to help you decide.
Local
Local is done up in all wood and steel to live up to its retro-chic theme. We loved the balcony-like first floor where you can soak in all the action downstairs as you sip wine. In fact, we noticed the DJ's revolving stage as dance music and glitzy lights kept everyone on their toes. The prices here make Friday night with the squad an affordable option.
Tamasha
The first thing that catches your eye at Tamasha is the huge truck-bar. Built to resemble Optimus Prime from Transformers, this mammoth bar has a good variety of drinks and shots. The cocktails are nice and reasonably strong. Also, remember to browse through the menu in case you miss out on something like the Jack Daniel Dal Makhni or the Vodka Chicken Biryani.
Cafe MRP
Cafe MRP is one place where you need to be if you need to party, especially when you're running low on cash. They welcome big groups, and there is ample space to accommodate everyone. Their beer menu is always updated and they have options for every kind of drinker. The cocktails are well-mixed and delicious, and the shots are cheap and do their job well. With great music and lighting, MRP gives you an authentic pub experience at half the price.
My Bar Headquarters
We love that they have brands and food for all people. You can enter the place on days you are broke enough to afford a Kingfisher, but also on days you can get yourself a Stella Artois. In terms of food, you can choose to order Chinese, Italian, Continental or North Indian as well. They've got a range, and that's why all the people in the squad will end up happy at this place.
Grappa
Feeling fancy? Rush up to Grappa at Shangri-La Hotel. With the bottomless serving of beer and sangria, it makes to the top of the list for an after-office happy hour (6:30pm to 7:30pm). Do not miss the complimentary popcorn that is served with the drinks here!
Lord of the Drinks
Spread across two floors including a sprawling terrace; this is the place to head to when you want to experiment with cocktails and munch on delish bar snacks. For those with a penchant for spicy, the Ace of Swords in Love is the perfect cocktail for the evening. For a sweeter taste, order My Passion and for all other intents and purposes, there's the Kala Khatta LIIT. The food menu is a mix of Oriental and Indian, with a special emphasis on Bombay specials like the Keema Pav. The Basil Chilli Stir Fry (paneer/chicken/prawns) is a universally-appealing dish but surprisingly, it was the Tandoori Aloo which stole our non-vegetarian hearts!
Bombay Brasserie
If you like good food as much as you love your cocktails, this is the place for you. The food is so so good, you'll be ordering seconds (and thirds) of the same dishes. Definitely try their pink gin, it's a real winner for us.
Farzi Cafe
Farzi has never failed to impress when it comes to their food and cocktails. That teamed up with good music and live performances is just perfect. The restaurant stays pretty full, especially on weekends, so we suggest you reserve a table in advance so you don't have to wait.
Rodeo Cantina & Kitchen
We love Mexican food, and we love Mexican cocktails even more. Rodeo is such a pretty place with a feel-good vibe, you'll keep coming back here for more.
Comments