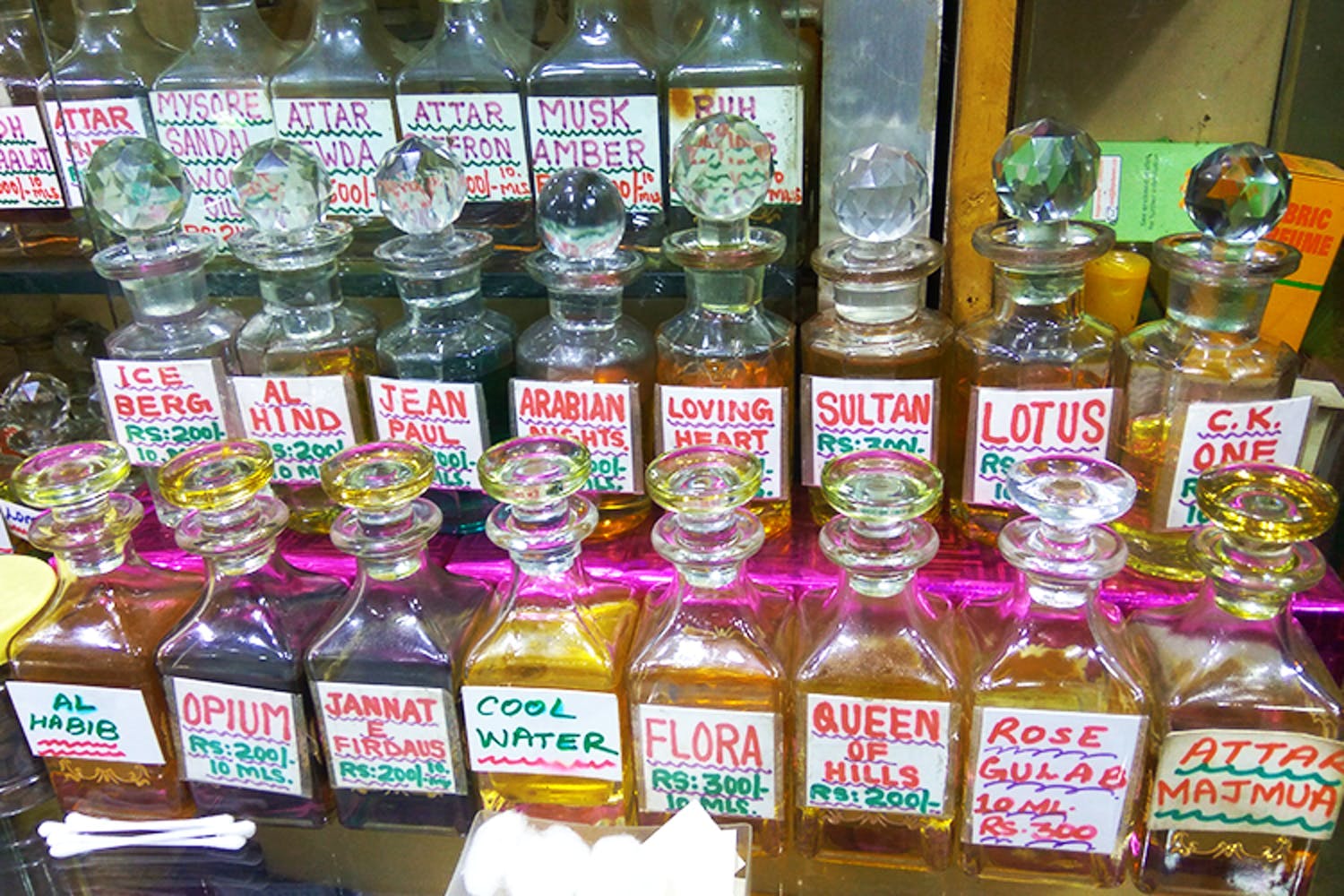 Smell Like A Dream With Ittars From These 12 Places In Delhi
If you are someone who is fond of desi perfumes and want to invest in different ones, then let us ask, have you tried ittar? Or if you have, have you found your go-to shop to find the best kind?
Well, don't worry even if you haven't. We've listed some of our favourite stores in Delhi for the sweetest-smelling ittar options.

Attar House Perfumers
Located near Jama Masjid in Bazar Chitli Qabar, this place is worth trying out. Offering a wide range, they have everything from sweet, floral to strong musk and the best part is, they are decently priced with INR 100 as their starting range. Also, trust us when we say that they do last really long.

Sadaf Perfumes Attar House
Also located near Jama Masjid, this store has a lot to offer. The starting price for their ittar options is INR 199 and they stock distinctive fragrances. The only drawback is that they do not customise but we guess, it's fine as long as you are satisfied with what they have to offer.

Al Noor Attar House
Located in Basti Hazrat Nizamuddin, this place is best if you are looking to buy fragrances on wooden or citrusy notes (although, they do have a lot of other notes as well, but these ones are generally the favourites). Also, these are priced well at around INR 150 for 10ml.

Gulab Singh Johrimal
Located in Chandni Chowk and Dariba Kalan, Gulab Singh Johrimal was established in 1816 and apart from ittar, they also sell agarbatties, essential oils, and soaps. Just in case you are someone who doesn't know much about ittar, you should definitely head here as a beginner. Apart from good variety, their ittars are priced affordably (start at INR 100).

Jain Super Store
With oils extracted from various flowers and petals, this store has been offering essential oils since 1977 and their products are all natural with zero chemical or artificial fragrance. Their small 4 ml ittar bottle starts at INR 100.

Zamzam Perfumers
Situated in Nizamuddin, Zamzam has a range of over 80 ittar options. In case you have any requirements, they can develop specific packaging as per your tastes. Topaz, Fawakeh, Hajr-e-Aswad, Saut-ul-Arab, and White Oodh are some of their popular fragrances. Also, the ittars are quite affordable with price starting at INR 150.

Mir Perfumery Products
Based out of Daryaganj, this place is quite popular. They've had repeat clients who trust the store's quality and service. Also, we hear that they are quite affordable too so, drop by soon.

Arihant Fragrance
Located in Janpath, this shop is a must-visit if you are looking to buy ittar that has a light fragrance and is also light on your pocket. Try their Iceberg, Jannet-e-Firdaus, and Cool Water as these ones are some of their bestsellers. If you talk about price, you'll have to shell out around INR 200 for 10 ml bottle.

Bhai Ji Attarwale Perfumers
Located in Sadar Bazaar, this ittar shop has all kinds of fragrances that you can think of. Also, keep in mind that the area is super crowded so make sure that you are mentally prepared before you head over. They are affordable too with price range starting at INR 100. Bhai Ji Perfumers will also help you as you explain your tastes and requirements.

Islamic Shop
It's an online shop that is basically famous for ittar, but they also stock up clothing and accessories. Their ittars start at INR 79 and right now, there is a discount going on, so you'll get stuff for much less. So, add to your shopping cart already?

Fragrances By Ambrin
Fragrances By Ambrin is an ittar brand that's mixing things up with concoctions that replicate notes from Versace, Flora By Gucci, Dior's Posion Girl and more. Rahat Khan, the chief perfumer, does a bit of procuring and a bit of blending to create novel fragrances that go beyond the usual rose and mogra.
You can buy her ittars in three, six and 12ml bottles via her Facebook page or you can buy directly from her at exhibitions.

Hari Piorko
Have you tried frozen ittars? If not, we think you should definitely consider heading to Hari Piorko situated in Paharganj. They have natural and subtle fragrances that generally last all day long and one dibbi is priced at INR 70 which is quite affordable.
Ask Mitali a question