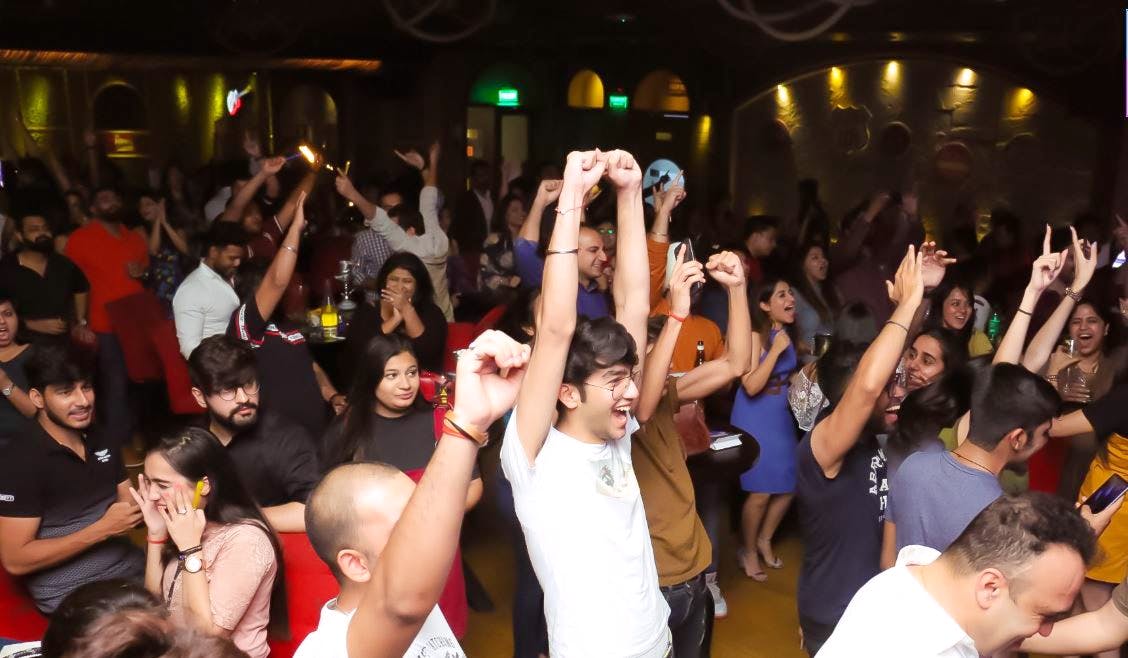 Every Gang's Got The Filmy Type: Take Them To These Bollywood Nights In Delhi
Don't you lie. You're guilty of having a tikka and Mika loving side that comes out if full form after the third peg goes down. If you aren't one (really?), you sure have friends and family or that lone squad member who grooves to Bollywood numbers like nobody's business.
For all those, we've got a little guide to finding alcohol and Arijit Singh at the best Bollywood nights across the city.
Qubitos
First off, their beautiful terrace is shut so you'll have to make do with a table in the floor downstairs. Now, with the bright news: Potent cocktails, good Indian khaana and Bollywood Bhangra Nights on Saturdays.
Read our full account of the place here.
S Bar & Restaurant - Shalom
Shalom is known for its Sufi nights but once every week, we see people drinking and dancing the night away to popular Bollywood songs. We hear their vegetarian platters and tikkas are next level, so try them out next time you're partying on your Saturday nights here.
Roar
The new kid on the block is already a part of conversations around the town for its kickass Bollywood music that doesn't let you stop dancing. If you're a hardcore party animal, this club needs to be on the top of your list. Drop by on Saturdays for an epic Bollywood night!
The Darzi Bar & Kitchen
Apart from the yummy appetisers, this place has events for everyone's liking throughout the week. But we're obviously interested in their 'Filmy Shanivaar', a Saturday night full of desi tracks, that'll channel your inner Simran and Raj, guaranteed.

The Hook
Doing good seafood in Gurgaon is rare, but the chefs at The Hook do it with precision, and class. But what makes us love them more are the Blockbuster Nights every Saturday. Also, don't forget to drown yourself in wheat beer when you're there.

AIR – An Ivory Region
If you're in Punjabi Bagh any night of the week and are in the mood to dance to some filmy songs then AIR has you sorted. They have a Bollywood night almost every night, and that too with a killer VIP deck for private parties. Is someone's birthday coming up? We hear 'Shaava Shaava'!

The Flying Saucer Cafe
Whether you're at the Nehru Place outlet or the one in Gurgaon, sore limbs at the end of the night is assured – because of all the dancing, guys (don't let your horses run wild). Expect a great ambience, and a DJ that ensures that no one is sitting – fly away on this saucer immediately.
Factory By Sutra
This microbrewery is probably décor goals in every way, and if you put Bollywood night in the picture, it just gets perfect. They mix retro with Bollywood for all the 90's kids to go crazy. So, we're saying – ladki aankh maare OG style.

Imperfecto
This vibrant restaurant has been our favourite for a long, long time, and hasn't failed us when it comes to a little filmy dancing. Saturdays are going to be all about yays here with Spanish food, and Bollywood music.
Brewocrat
Fridays and Saturdays are going to be epic as Brewocrat gives us yet another reason to wait for weekends. Fiesta Fridays will see live performances with Bollywood playlist, and Saturdays will be a social night with Bollywood competing with Hollywood tracks for the ultimate throne – we all know who'll win though, right!?
Comments