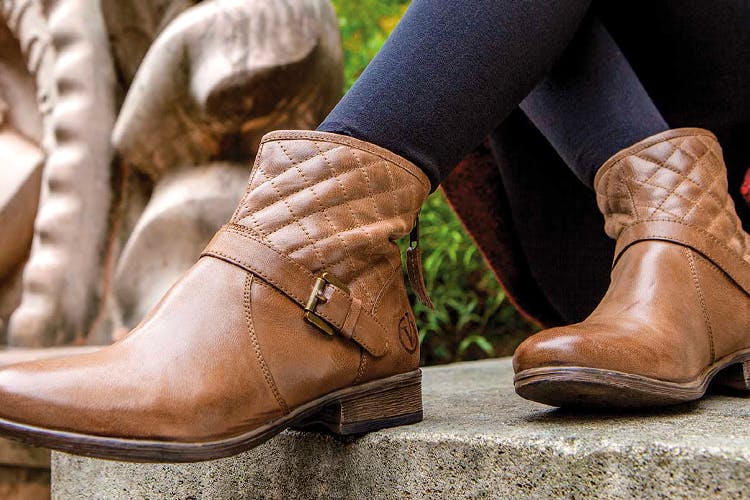 Leather, Suede Or Resin: Here Are 16 Places To Score Boots From This Winter
The much-awaited Delhi winter's finally here and we're all set to venture out for a hot cuppa coffee in our warmest sweaters, beanie caps and earmuffs. What about the cold feet? Don't worry, these boots have got you covered.
Chor Bazaar
A leather wonderland, Chor Bazaar has some great finds. Just that you'll have to wake up super early on a Sunday morning and rummage through piles of prospective boots before you find the right ones.
We've been there and the prices (we saw genuine leather boots for as low as INR 900) make the waking up early so worth it. And yes, they have both heels and flats. Watch out for brands like Steve Madden, Zara and Woodland.
Vanilla Moon
For a classic, standard pair of boots in brown, black or tan, Vanilla Moon is a great choice. All their boots have unique names such as Parma, Penang and Wallis, and are genuine leather so you can be sure that they're going to last you for years (which explains the price).
Yashwant Place
More famously known as the land of momos and BYOB, Yashwant Place also has its fair share of shops for those looking for some retail therapy. Apart from gems, jackets and bags, you can get them to customise boots exactly as per your liking. Ready to play designer?
H&M
We like it big, we like it chunky. And H&M is catering to those very desires. Choose from a range of platform boots and solid heels in leather or suede, or a melange of both. They've also got simple ones in tans and in black colour under INR 2,000.
Sarojini Nagar Market
If you go to the lane behind the export surplus lane, you'll find two leather shops, right next to each other, at one end. Enter and you'll feel like Alice.
Expect shoes and boots from Zara, Topshop and the like in a myriad of colours and styles. These guys aren't too flexible with the bargaining but expect at least 10-15 per cent off the said price.
Naturalizer
From Chelseas to knee-high boots to heeled booties, Naturalizer has your feet covered this winter. Being a favourite brand for slightly older folk, we can vouch for the comfort. As for the design, check it out for yourself.
Carlton London
Carlton London has left its mark on us ever since its South Ex showroom days. Although they no longer have a flagship store, they're still retailing from various stores.
Their most popular item is the U.G.G. style comfy flat boot, which is the best thing you could put your feet into when the chill's getting into your bones.
Aldo
One of the most popular haunts for those on a shoe hunt, and for good reason. They've got flats, wedges, pencil heels, pine heels and plenty of options for the messieurs as well. And every design screams 'fabulous.' Sold yet?
The Shoe Garage
They have boots in all shapes and sizes: Ankle length, knee length or thigh high. You're almost definitely going to fall for at least one of the pairs, but we're warning you, sometimes they don't have your size. However, you could always request them to place a special order for you; sometimes it's possible.
Paharganj
Paharganj is leather haven and you never know where your dream boots are hiding. Do explore the tiny gallis. And if you don't have the time (or patience), head on down to Vishal Footwear. They've got a great variety and also customise; You simply need to tell them what you really really want or better still, carry a picture.
Tjori
Hand-crafted leather boots in solid colours such as black, red, blue and green played off with thread weaves in typical winter patterns. Buy these for their ethnic twist and pair them with any outfit to jazz it up.
Forever 21
If you're specifically looking for suede ankle length boots, Forever 21's current collection won't disappoint. Choose from neutrals in chunky (yet not too high) heels like brown, tan, black and beige.
Majnu Ka Tila
A popular haunt in North Campus, this little Tibetan colony has some amazing boots in addition to their incredible food. Their leather products are really good and they have all kinds of boots for the season, suede, ankle-length, knee high, you name it. Definitely the best place to pick up multiple pairs. Their boots are priced pretty reasonably too.
Venus Steps
Venus Steps in Khan Market has a number of brands to pick from, in addition to their own products. Their selection of boots is great, with multiple brands and styles to pick from.
Bata
Bata has seriously improved their shoe game and you can actually rely on them for classy knee-lenght black or tan boots. Our colleague who got her pair of boots from Bata recommends the brand for their impeccable quality (she has had them for two years and they still look as new as on Day 1!) and the fact that they're reasonably priced too (INR 3K for knee-length, block heel boots).
Call It Spring
Call It Spring is a great option if you're looking for boots that go beyond the classic black and brown. They've got colours like dark blue, wine and military green too. Call It Spring doesn't have a lot of options available online (they retail through Myntra, Tata Cliq and other sites), but drop by their offline stores in Pacific Mall Subash Nagar or DLF Promenade for a great variety at Christmas discounts.
Comments